Hyundai Santa Fe
The talented Santa Fe is one of the best models Hyundai has ever produced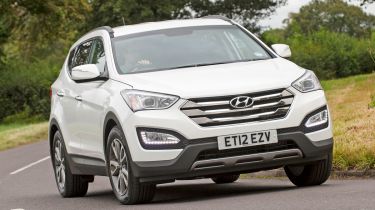 In a year that has witnessed a raft of new SUVs vying for honours, the Hyundai Santa Fe emerged as the leader of the pack.
Land Rover may have been expecting a ninth title for its Discovery, but along came the new Santa Fe. And it could be a while before it relinquishes its title.
It wasn't long ago that Hyundai made the leap from being a value brand to a genuine mainstream contender. Now the company is looking even further upmarket, and the new Santa Fe is the first evidence of its sky-high aspirations.
Classy styling leaves Japanese rivals in the shade when it comes to visual appeal, and a 2.2-litre diesel engine offers a decent combination of performance and efficiency. The smart interior is absolutely crammed full of useful touches and advanced features, while the driving experience is thoroughly up-to-date.
Previous generations of the Santa Fe have always been superbly practical machines, and the latest doesn't disappoint, with a huge boot and a nifty third row of fold-out seats in the back.
So it's no surprise to see the Hyundai emulate the outgoing model and pick up one of our annual New Car Awards. Only time will tell if Hyundai manages to successfully complete the transition from mainstream player to premium brand.
But if it does make the grade in years to come, the current Santa Fe will be singled out as the model that kickstarted the transformation for the ambitious Korean company.
OUR CHOICE: 2.2 CRDi Premium seven-seat 4WD (£30,670) Hyundai has made picking the right Santa Fe easy, offering only one engine – a 2.2-litre diesel. It's at its best in versatile seven-seat Premium spec.
Commended
Land Rover
 Discovery 4
The Discovery is one of the most decorated cars in Auto Express history, racking up eight consecutive awards since its debut win in 2004. It remains as practical and talented as ever.
Range Rover Sport
The Range Rover Sport is a technical tour de force. Cars this big and heavy shouldn't be able to handle as well or accelerate as fast. It also looks great and has an upmarket cabin. The Sport isn't cheap, but it's hugely desirable.