Hall of Fame 2015
We've inducted GM's Executive Vice President and President for North America Alan Batey into our hall of fame, plus the Land Rover Defender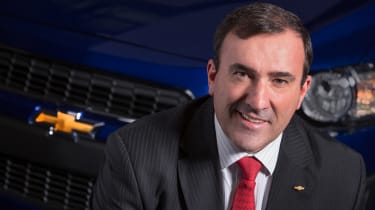 Hall of Fame: Alan Batey
General Motors Executive Vice President and President, North America This year's Auto Express Brit List was as hotly contested as ever, showing once again the huge talent that this country has to offer the global car business.
Taking the number one spot for 2015 – and inducted into the Auto Express Hall of Fame – is General Motors' executive vice president and president, North America, Alan Batey. Batey began his career at GM in 1979 as an engineering apprentice with Vauxhall in Luton.
Since then he's been around the world working in Germany, Switzerland, the United Arab Emirates, Korea and Australia. Now he's based in Detroit with responsibility for sales and service in the US for all of GM's brands in its home market, while also leading Chevrolet globally.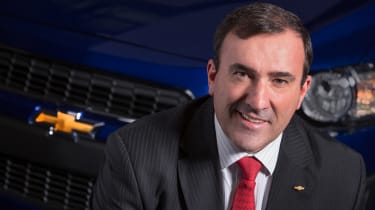 Such has been Batey's success that in what threatened to have been a nightmare year in 2014 – with recalls and other issues that could have tarnished GM for good – sales in the US actually went up. That also helped boost the company's profits, as did the work Batey has put into GM in China – he sits on the board of GM China's joint venture with Shanghai Motor Corporation. And despite the fact that Chevrolet's mainstream models are disappearing from the European market, the brand is putting in a healthy showing across the rest of the world.
It may have been some time since Batey has worked in the UK, but he's a regular in this country, and Auto Express caught up with him at the recent Goodwood Festival of Speed. "I am delighted and very honoured to receive this award and to be placed alongside some real icons of the British auto world," he explained.
"Humble and hungry has been my mantra and I can honestly say that after 37 years in the auto business, living and working in nine countries, I am still as passionate and excited today about this business as the day I started.
"Brits have always excelled on the global automotive stage, and there is strong evidence as you look at this year's list that the bench is deeper than ever. We are recognised as having a strong work ethic and great leadership and communication skills."
Hall of Fame: Land Rover Defender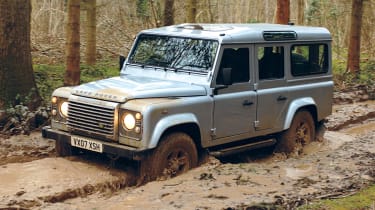 For the first time ever, we have inducted a car into the Auto Express Hall of Fame – and there has never been a model sodeserving as the Land Rover Defender.
The iconic 4x4 is 67 years old and the curtain is about to come down on production after a lifetime of achievement. It's served in the military and been converted into everything from fire engines to royal carriages, while legend says it's the first thing to cross the desert after a camel – everyone has a Defender story to tell. But perhaps its biggest achievement is to make it so far with so little change to the original design – testament to how right it was on day one.
Age is not the only milestone, because the two-millionth model recently rolled off the production line on Lode Lane in Solihull – first the Series I, then Series II and III, and finally Defender. And Auto Express' editor-in-chief Steve Fowler was invited along to play a part.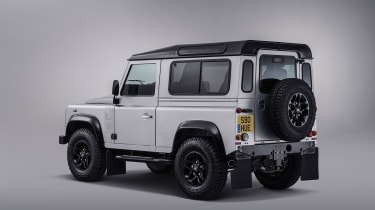 Before hitting the factory line, our man caught up with Jaguar Land Rover engineering director, Nick Rogers, to find out how the car has lasted so long.
Rogers learnt to drive in a Series II on his father's farm aged nine and now, after 31 years with the company, is charged with replacing this most iconic of cars. "The beauty of the Defender is everything's there for a purpose," he said. "On a Series I you can't find anything that's not needed. That's perfect minimalist design. "Today, using aluminium in cars is advanced, yet when the Series I was made in the forties steel was under ration and aluminium wasn't – and there was lots of aluminium around as it was used for building Spitfires."
Fowler worked with 21-year-old production associate Carlton Heath to fit the wiring assembly into the roof of the car, before also fitting the famed alpine lights – darkened glass panels that sit in the roof side panels of Defenders.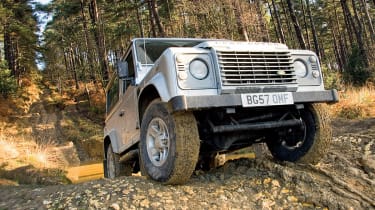 The bespoke model 2,000,000 is due to be auctioned off by Bonhams on 16 December, shortly before production of this generation of Defender at Solihull ends for good. Proceeds from the sale will go towards the International Federation of Red Cross and Red Crescent Societies and the Born Free Foundation.
A replacement for the Defender is due to go on sale in 2018. It's got a great deal to live up to – it's doubtful the world will ever see a car with such global impact as the Land Rover Defender.
Auto Express New Car Awards 2015 
For complete, in-depth coverage of the New Car Awards 2015, buy your collector's edition copy of the Auto Express magazine now...