Convertible of the Year 2015: Audi A3 Cabriolet
The Audi A3 Cabriolet is the 2015 Auto Express Convertible of the Year, with the BMW 4 Series and Porsche 911 Convertible commended
The Audi A3 Cabriolet scoops our Best Convertible award once again thanks to its sleek proportions, peppy engines and effortless open-top ability. It faced stiff competition from the new BMW 2 Series Convertible this year, but the small drop-top just had enough to reign supreme over its rival.
Drive the A3, and its MQB underpinnings are immediately apparent, with sharp steering that gives the chassis an alert feeling. Audi hasn't cut corners in taking the roof off the standard car, either, as the bodyshell feels stiff and composed over bumpy roads with very little shake through the cabin. And despite the A3's big wheels, this is a sporty Audi that, refreshingly, rides with a soft and supple edge.
• Audi A3 Cabriolet vs BMW 2 Series Convertible
It boasts clever tricks like a climate control system that remembers settings for when you have the roof up and down, while the minimalist interior is a delightful place to be. And with that powered hood, you can enjoy the wind in your hair at the touch of a button, as the roof will raise or lower in 18 seconds at up to 30mph.
The vast engine line-up ranges from frugal diesels which emit as little as 110g/km of CO2, all the way up to a blistering 296bhp S3 Cabriolet model – and even this level of power doesn't corrupt the drive. Whether the roof is up or down, the A3 is relatively practical, with four seats and a big boot. Space in the rear is good, too, making this a car for all seasons.
Our choice
A3 Cabriolet 1.4 TSI Sport (£27,525)
The revvy 1.4-litre turbo petrol engine is the one to have, as it has enough power to keep things interesting and matches the A3's simple, muscular styling perfectly. In Sport spec, it's a great cruiser on the motorway and lots of fun on a twisty road.
Commended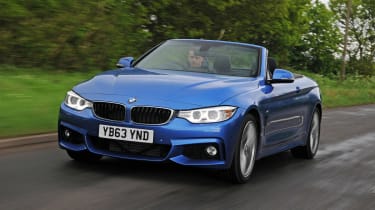 BMW 4 Series Convertible
A folding metal hard-top provides BMW's 4 Series Convertible with excellent refinement whether you're driving around town or on a motorway cruise. Mix its sleek coupé proportions with some punchy petrol and diesel engines, and it's easy to see why this model has picked up the old 3 Series Convertible's mantle by becoming a resounding success.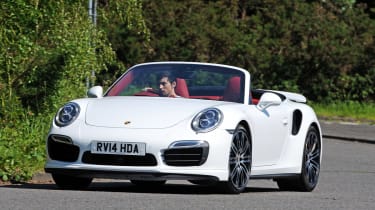 Porsche 911 Convertible
More than 50 years of development have made the Porsche 911 an icon, and taking the roof off for the 911 Convertible only strengthens that attraction. A roofless Porsche no longer equates to dynamic shortcomings in this day and age, and with the top down, you can hear the flat-six's bark better. Plus, the 2+2 layout means there's a dash of practicality.
Auto Express New Car Awards 2015
For complete, in-depth coverage of the New Car Awards 2015, buy your collector's edition copy of the Auto Express magazine now...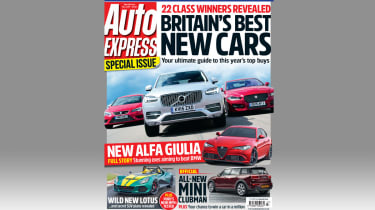 in association with