Audi S3 Cabriolet review
Audi looks to corner the market for small, fast soft-tops with its Audi S3 Cabriolet
On paper the Audi S3 Cabriolet has it all – a powerful 296bhp 2.0 TFSI engine, gorgeous styling and space for four adults plus a bit of luggage. It's not cheap, as Audis rarely are, but from the minimalist interior to the intricate 19-inch alloy wheels it's glorious to behold.
Only available with a six-speed DSG gearbox, stiffer and lower S Sport suspension and bigger brakes it's a serious performance machine, but suffers from an extra 170kg of weight compared to the S3 Saloon.
A 285-litre boot (with the roof up) and space for two adults in the rear make it surprisingly practical, but those big wheels and sports suspension mean it's bone-shakingly firm over poor surfaces.
Engines, performance and drive
With the same 296bhp 2.0-litre turbocharged engine as the S3, S3 Sportback and S3 Saloon, under the bonnet the S3 Cabriolet has some serious firepower at its disposal, and a 0-62mph time of 5.4 seconds proves it's got pace to spare.
However, it never feels as fast as the numbers suggest, thanks in part to an extra 170kg of weight compared to the S3 Saloon. There's an old-fashioned pause when you floor the throttle as the turbo spools up, followed by a rush of acceleration and a raspy exhaust note.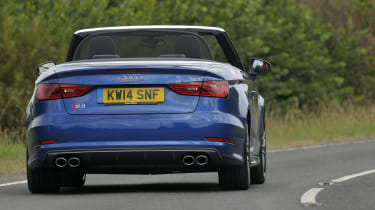 A six-speed DSG gearbox is the only option and works well when you switch gears manually at higher speeds. It can be a little reluctant to shift down though and jerky at slower speeds, though.
The steering has weight to it but doesn't offer much feedback, but there's bags of grip from the quattro four-wheel drive system and the car stays perfectly flat in corners with none of the chassis wobble sometimes associated with convertibles. The compromise is a back-breaking ride over poor surfaces thanks to the 19-inch wheels, and S Sport suspension that's both firmer and lowered by 25mm.
MPG, CO2 and Running Costs
It's fair to say you don't buy a performance car if running costs are at the top of your priority list. However, drive the S3 Cabriolet carefully and fuel economy shouldn't be too bad. The claimed economy and CO2 figures are 39.8mpg and 165g/km respectively, although you're unlikely to match those in the real world.
By comparison, the A3 Cabriolet with the 1.6 TDI engine returns a claimed 72.4mpg and 104g/km. A three-year fixed price service plan is available for £399, and you can extend the three-year warranty by one or two more years.
Interior, design and technology
Unlike its predecessor, which was based on the A3 hatchback, the new A3 Cabriolet shares its silhouette with the A3 Saloon – and the longer back end doesn't just boost practicality, it improves the proportions, too.
The S3 cabriolet takes the standard car and adds extra aggression and bling with 19-inch alloys, silver wing mirrors, a deeper bodykit and four exhausts at the rear. Unique brake calipers clamp bigger discs and add to the drama, while the cabin gains leather-clad sports seats, more brushed metal trim and a sprinkling of S3 badges.
Practicality, comfort and boot space
Buying a convertible often involves a compromise in terms of practicality to achieve the added style, but because the A3 Cabriolet is 28mmm wider and 183mm longer than its predecessor, boot space has increased significantly. For the S3 it's 285 litres with the roof up and 245 litres with the roof down. The opening isn't very high, but it is wide so you can fit surprising amounts in there, plus the rear seats can be folded forward to free up more room.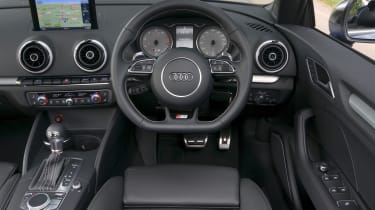 There's enough space in the back to fit two adults, but the front seats' hard backs restrict kneeroom. Up front, headroom isn't compromised by the new canvas top, although the A-pillars seem more prominent than usual, as they're beefed up to withstand a roll-over impact.
Refinement with the roof up or down is good – as long as the road surface is smooth. Encounter bumps though and the constant jolts through the seats can prove tiresome on longer trips.
There have been no major issues reported so far with any model in the four-strong A3 line-up. However, one area where there's room for improvement is the dealer experience. Audi came 26th out of 32 in the 2014 Driver Power customer satisfaction survey, with owners criticising dealer's dishonesty and incompetence.
While the A3 Cabriolet hasn't been tested by Euro NCAP, the standard hatch has a five-star rating. The drop-top gets only five airbags to the hatch's seven – convertibles have no room for curtain bags - but a driver's knee airbag is included. The rest of the A3's electronic aids are carried over, including ESP, adaptive brake lights and an active bonnet for pedestrian collisions.
Also, the Cabriolet adds pop-up roll hoops behind the back seats that deploy if the car senses it's about to roll. As it's a performance model the S3 will need perishable parts, such as tyres and brakes, replaced more often but all other components should be just as robust.