Premium small Car of the Year 2015: MINI Cooper
The Mini Cooper is the 2015 Auto Express Premium Small Car of the Year, with the Audi A1 and Citroen DS3 commended
The MINI Cooper has retained its place as the best premium small car. The three-door Cooper was our overall Car of the Year in 2014, and with its retro design and customisable charm, it's as popular as ever – the revised Audi A1 and DS 3 haven't quite managed to knock it off its perch.
MINI started the upmarket small car revolution at the turn of the millennium, and it's gone from strength to strength. That's thanks to a nimble chassis, plenty of personalisation options, and the classy and classless MINI image. Now in its third generation, the MINI packs in even more tech.
Its downsized 1.2 and 1.5-litre three-cylinder petrol and diesel turbos pull hard but deliver running costs to rival those of cheaper city cars. With CO2 emissions from 89g/km, you can run the car on a shoestring when it comes to fuel and road tax – and at the other end of the scale there's the scorching 228bhp MINI John Cooper Works that'll delight hot hatch fans.
Adding a MINI five-door has further improved the appeal, with easier access to the retro cabin. Inside, its packaging is a big improvement, and with parent firm BMW donating infotainment tech, the MINI gives off an air of class – but importantly it's still punctuated by a sense of fun thanks to touches such as the trademark oversized central speedo and sixties-inspired toggle switches.
The winning formula continues to work, yet MINI's still put the effort in where it counts. No matter what the model, the Brit brand's hatches are great to drive with a controlled, comfortable ride that eclipses its predecessor's. A long list of advanced safety tech rounds off a delicious recipe.
Our choice
MINI Cooper (£15,485)
It's not the most efficient model in the MINI range, but the Cooper still claims 62.8mpg, which isn't bad when you consider the engine also packs a healthy 134bhp. That means you pay a bargain £20 in road tax – and when you combine it with head-turning looks and that grippy, nimble chassis, this MINI presents fun motoring that won't break the bank.
Commended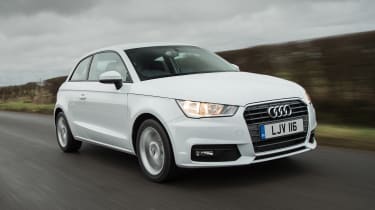 Audi A1
New, more efficient three-cylinder engines, a gentle makeover and extra technology make this revised Audi A1 the most appealing version yet. As with the MINI, there are high-efficiency models as well as a more practical five-door Sportback option and an S1 hot hatch, meaning this compact Audi caters for all tastes.
DS 3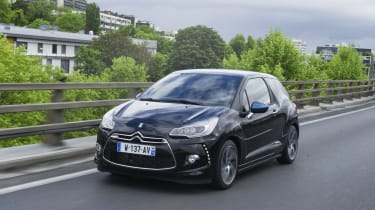 Last year, DS launched as an brand in its own right. Dropping the Citroen tag has arguably improved its image, and this facelifted DS 3 boasts class-leading CO2 emissions and, for the very first time, autonomous braking. Combined with the attractive exterior and interior design updates, it's a very strong opening salvo from the DS marque.
Auto Express New Car Awards 2015
For complete, in-depth coverage of the New Car Awards 2015, buy your collector's edition copy of the Auto Express magazine now...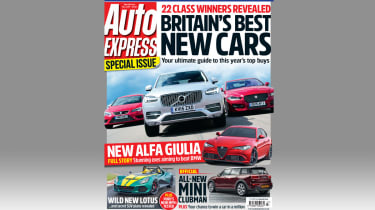 in association with