Compact SUV of the Year 2015: Land Rover Discovery Sport
The Land Rover Discovery Sport is the 2015 Auto Express Compact SUV of the Year, with the Dacia Duster and Porsche Macan commended
The Discovery Sport has gone straight to the top of the compact SUV class thanks to its family friendly cabin, Range Rover-inspired design and high-quality finish. It marks a new era for Land Rover, as the squared-off lines of the Freelander it replaces make way for a curvy design that takes inspiration from the Evoque, with which the Sport shares its platform. Its overall shape points the way for future Land Rover models.
The raised rear end and a revised suspension layout mean there's plenty of boot space, and there's a third row of seats in the back for added versatility. The classy cabin boasts Range Rover quality and has the latest touchscreen infotainment system that's far more user-friendly than before.
On the road, the Disco Sport is a refined and comfortable cruiser, while an optional nine-speed auto delivers smooth shifts. The steering is sharp, body control is excellent and there's surprising grip from the all-weather tyres.
And while the existing 2.2-litre diesel is a little gruff, all new cars will get the brand's efficient Ingenium 2.0-litre engine.
Where the Sport really trumps rivals is that it's also hugely talented off-road, with permanent 4WD and Land Rover's excellent Terrain Response system adapting the transmission and electronics to suit the conditions. Even without the larger Discovery's locking differentials and low-range gearbox, the Sport can clamber over rough terrain with the confident agility of a mountain goat.
Our choice
Discovery Sport TD4 HSE (£37,595)
All Discovery Sport models come generously equipped, and the HSE is positively luxurious. If you order a Sport today, you'll get a model powered by the new Ingenium TD4 diesel, which delivers even greater efficiency without compromising performance.
Commended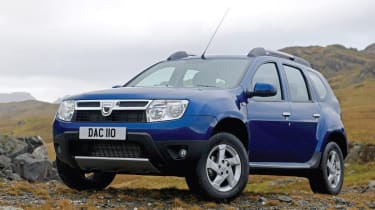 Dacia Duster
The rugged and dependable Dacia Duster is one of the best new car bargains available on the market today. It has room for a family of five and their luggage, and a four-wheel-drive transmission is available for go-anywhere capability. Plus, all of this comes in an SUV with a supermini price tag.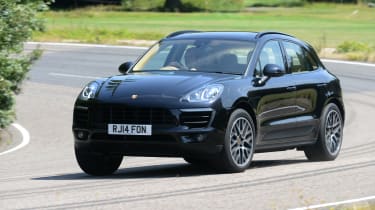 Porsche Macan
This smart model introduces Porsche's world-famous sports car handling to the compact SUV class, yet the Macan boasts real depth of talent as well. That's because it's a highly practical family car – and if you go for the diesel-engined version, you can expect excellent fuel efficiency, too.
Auto Express New Car Awards 2015
For complete, in-depth coverage of the New Car Awards 2015, buy your collector's edition copy of the Auto Express magazine now...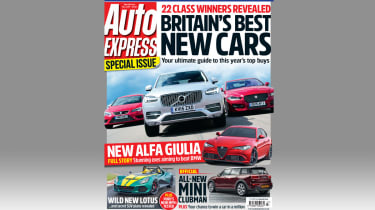 in association with