Supermini of the Year 2015: Volkswagen Polo
The Volkswagen Polo is the 2015 Auto Express Supermini of the Year, with the Mazda 2 and Skoda Fabia commended
Twelve months is a long time in the supermini class, especially since 2014's awards. With the launch of new or updated cars over the past year from Hyundai, Vauxhall, Mazda, Skoda, Kia and Volkswagen, among others, finding a winner in this closely fought category proved to be one of our toughest decisions.
However, when it came down to the fine details, the Polo scooped the honours thanks to its upmarket quality, grown-up driving manners and range of efficient yet responsive engines. The VW was given minor cosmetic changes last year, but the interior and engines were more thoroughly updated.
Inside, the dash now gets the same infotainment touchscreen as the Golf, giving the cabin an edge for user-friendliness to complement its soft-touch plastics and high-quality switchgear.
On the road, the Polo delivers an excellent mix of refined comfort and polished dynamics. Its suspension soaks up bumps with ease, while the cabin is hushed even at motorway speeds. In corners there's plenty of grip, and the Polo is enjoyable to drive, thanks in part to the punchy delivery of its petrol and diesel turbos.
As a bonus, these give class-leading efficiency, while buyers looking to save even more can choose between super-efficient BlueMotion petrol or diesel models.
With cutting-edge safety kit like adaptive cruise control, LED headlamps and autonomous emergency braking, it's no surprise the Polo is now cream of the supermini crop.
Our choice
Polo 1.2 TSI 90 SE 5dr (£14,410)
Go for 1.2 turbo petrol power and you'll get a good balance between performance and running costs, while SE specification includes the smart touchscreen infotainment system with a multifunction steering wheel, MP3 player connection and Bluetooth.
Commended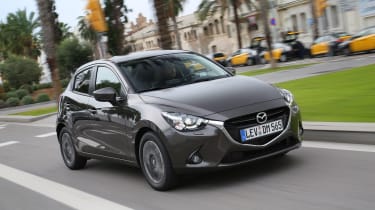 Mazda 2
While rivals turn to turbos to improve their efficiency, the new Mazda 2 focuses on lightweight construction to reduce emissions and increase economy. A bonus of this weight saving is that it delivers entertaining handling, so the Mazda 2 is a lot of fun on twisty roads while still delivering excellent economy.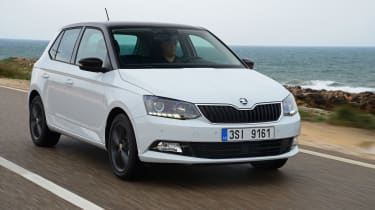 Skoda Fabia
The third-generation Fabia takes a major step forward in terms of design, while cabin quality and driving dynamics are equally impressive. Add in the same range of punchy yet efficient petrol and diesel engines as the Polo, and it's no wonder that the Fabia is Commended in the closely fought supermini sector.
Auto Express New Car Awards 2015
For complete, in-depth coverage of the New Car Awards 2015, buy your collector's edition copy of the Auto Express magazine now...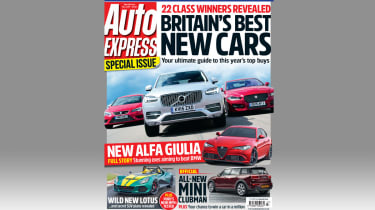 in association with