Hot Hatch of the Year 2016: Ford Focus RS
The Ford Focus RS is the 2016 Auto Express Hot Hatch of the Year, with the Honda Civic Type R and SEAT Leon Cupra 290 commended
The flames of the hot hatch fire were well and truly fanned when the Ford Focus RS hit the market. Nurburgring lap records had been shattered by SEAT, Honda and Renault, but Ford pulled the rug from underneath them, arriving with a 345bhp four-wheel-drive monster for £31,000.
While that may still sound like a lot of money, it actually makes the Focus RS a performance bargain – especially given the clever tricks the car has up its gaping tailpipes.
With development input from stunt driving sensation Ken Block and thanks to its incredibly clever all-wheel-drive system, the RS has been developed to drift. There's even a special drift mode that can send all of the power to one individual rear wheel, kicking the Ford's tail into a graceful slide. Yet there's still a huge amount of grip to lean on, with adaptive dampers to firm the chassis up even further. It's stiff as standard, but in RS mode the Focus feels like a hardcore rally car with incredible traction to haul it out of bends, making the most of the engine.
It's not just a retuned Focus ST engine under the bonnet, though. Instead, there's a 2.3-litre turbo four-cylinder that's had input from Cosworth – rekindling a link between Ford RS and the British engineering firm to great effect.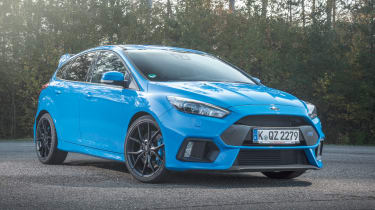 Helped by launch control, the snarling engine hurls the Focus from 0-62mph in 4.7 seconds, but it's the way the car darts into B-road corners and thumps out of them that makes the driving experience so infectious. The solid Brembo brakes and fast steering ensure it stops and turns as well as it goes, and with a popping and crackling exhaust note, there's a soundtrack to match the speed.
Despite the muscular styling, the RS is still practical – just as a hot hatch should be. Five doors and a 260-litre boot mean you can carry plenty of people and luggage, while optional Recaro seats are comfy on long journeys and hold you firmly in place on track.
Ford has put distance between the hottest Focus out there and the rest of its similarly priced competition. In fact, the RS has graduated into the mega hatch league of the Mercedes-AMG A 45 and Audi RS3, only it's a lot cheaper. Plus, it's crammed full of clever technology.
Our choice
Ford Focus RS (£31,000)
The Ford only comes in one spec, but you can add extras like the figure-hugging Recaro seats, bigger 19-inch wheels and a Luxury pack that brings keyless go and cruise control. Whatever you choose, the rorty engine, scintillating chassis and four-wheel-drive wizardry remain, delivering high-performance sports car speed for a reasonable outlay.
Commended
Honda Civic Type R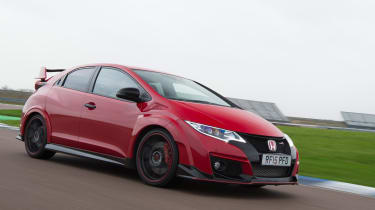 Honda's latest Civic Type R may have lost its spine-tingling, naturally aspirated VTEC engine in favour of a gutsy turbo unit, but it still sticks to the traditional front-wheel-drive hot hatch recipe. Performance isn't in doubt, and with a slick manual gearchange and vast reserves of grip, it's another performance bargain. 
SEAT Leon Cupra 290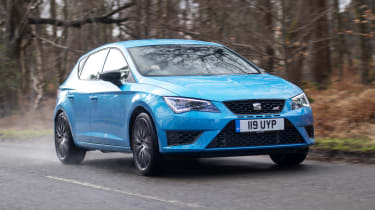 Last year's champ has been treated to a facelift and an extra injection of power, making it more desirable than ever. It lacks the raw pace of the Focus RS and the wild looks of the Honda, but the SEAT Leon Cupra's ability to change seamlessly from sports car to comfortable family hatch makes it a compelling choice.
Auto Express New Car Awards 2016 
For complete, in-depth coverage of the New Car Awards 2016, buy your collector's edition copy of the Auto Express magazine now or click here to subscribe...