Driver Power Award 2016: Tesla
Tesla scoops the 2016 Driver Power Award after taking the customer satisfaction survey by storm this year
Debuts don't get much better than Tesla's first appearance in our Driver Power satisfaction survey. The pioneering manufacturer of electric cars took our annual poll by storm in 2016, with owners placing the brand top of the pile thanks to a quite remarkable satisfaction rating of nearly 98 per cent.
What made this success even more amazing is that the firm only had one car on its price list: the Model S. However, with itsmix of performance, practicality and penny-pinching running costs, the battery-powered executive proved unstoppable in our ranking of Britain's 150 best cars to own. It secured top spot ahead of the impressive electric Renault ZOE and the Renault Kadjar crossover.
• Best cars to own: Driver Power 2016 results
Yet it was the manner of the Model S's victory that will have made rival manufacturers stand up and take notice. An incredible display saw the Tesla dominate seven of the 10 judging categories, with owners voting it best for running costs, performance, road handling, ride quality, ease of driving, practicality and in-car tech. In the remaining three categories, it finished fifth for seat comfort and reliability, and a decent 33rd for build quality.
Put simply, owners love their Teslas. With its scorching acceleration, seven-seat practicality and hi-tech interior, the Model S is a joy to own, while the brand's free-to-use Supercharger network means you'll pay virtually nothing to be on the road.
This is unlikely to be a flash in the pan, either. With the Model 3 compact exec and Model X SUV on the way, Tesla's Driver Power domination could go on.
Auto Express New Car Awards 2016 
For complete, in-depth coverage of the New Car Awards 2016, buy your collector's edition copy of the Auto Express magazine now or click here to subscribe...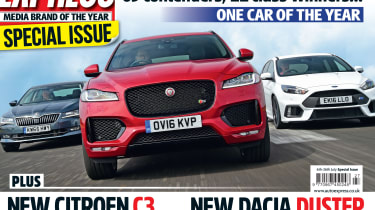 in association with