Convertible of the Year 2016: MINI Convertible
The MINI Convertible is the 2016 Auto Express Convertible of the Year, with the Audi A3 and Ford Mustang commended
The new MINI Convertible proves you don't need masses of power to have fun behind the wheel. By removing the fixed roof from the MINI hatch and replacing it with a folding fabric top, it adds a whole extra dimension to the driving experience.
Usually, when converting a car to a cabriolet, you lose some of the strength in the structure, but the transition to open-top has proven a convincing exercise for the British brand.
The Convertible is over 100kg heavier than the regular MINI due to the added chassis strengthening, but that's resulted in a solid car that doesn't fidget or wobble like other small convertibles.
• Best convertible cars on the market
This also means the typically fun MINI driving dynamics are retained, so the fast, pointy steering, taut suspension damping and peppy engines all combine to put a smile on your face.
Even the 1.5-litre three-cylinder turbo petrol is enough to get it off the line with some force, and with the roof down, at low speed you get just enough of the off-beat thrum.
Refinement is good, too, with buffeting controlled nicely. The MINI also makes a great cruiser, so you can enjoy longer top-down journeys, with features like heated seats and a weather forecast function improving comfort when the roof is down.
The Convertible scores strongly on feel-good factor, while inside, the layout and design give the car real personality. Although this will never be a full four-seater, the smaller rear seats are large enough to carry adults on shorter journeys, while its 215-litre boot and clever loading mechanism can take plenty of luggage.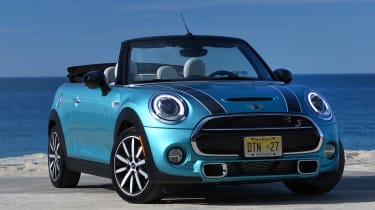 If you're after a little more, MINI offers the Convertible in high-performance John Cooper Works form. This extra power tests the chassis more, but it's still capable of containing the 2.0 turbo.
The MINI has all the qualities of a great cabriolet, plus a price that undercuts its DS 3 Cabrio rival is the real cherry on top. 
Our choice
MINI Cooper Convertible (£18,475)
The three-cylinder Cooper makes the most sense, as there's sufficient performance on offer to let the superb chassis sparkle, while strong efficiency, enough practicality and eye-catching styling ensure this is a great all-rounder. You might have to add a few options, but choose these wisely, and you'll bag a brilliant, characterful soft-top. 
Commended 
Audi A3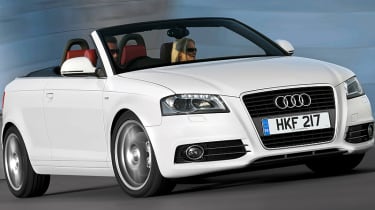 Last year's Best Convertible gets an honourable mention here, as time hasn't dulled the appeal of the A3's elegantly sharp styling, range of efficient but strong petrol and diesel engines, and – like the MINI – a solid chassis that doesn't lose its composure, despite the lack of a roof. Four seats, a big boot and lots of comfort make this a car for all scenarios.
Ford Mustang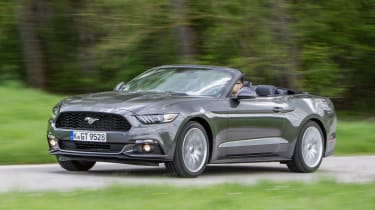 The Ford Mustang has a super-sized portion of character, especially the 412bhp 5.0-litre V8, which, at £38,495, represents a lot of performance per pound. It's a proper all-American muscle car that now actually works on UK roads, thanks to developments like independent rear suspension. However, be prepared to spend any cash saved up front at the pumps instead. 
Auto Express New Car Awards 2016 
For complete, in-depth coverage of the New Car Awards 2016, buy your collector's edition copy of the Auto Express magazine now or click here to subscribe...