Performance Car of the Year 2016: McLaren 570S
The McLaren 570S is the 2016 Auto Express Performance Car of the Year, with the BMW M2 and Ferrari 488 GTB commended
McLaren has been winning on the track for decades, but its road car division is a relative newcomer. However, by applying what it's learnt from Formula One to the road, it has produced some stunning performance cars.
Its latest is the 570S – the most affordable McLaren yet. At £143,270, it's still massively expensive, but then again, it's simply incredible.
Performance cars should be about theatre, and from the moment the 570S's sculpted, dihedral doors arc skywards, it delivers the true supercar experience.
The 562bhp 3.8-litre twin-turbo V8 has a raucous bark at idle, plus it revs with real zing and a demented howl. It serves up scintillating acceleration, with the 0-60mph sprint taking just 3.1 seconds thanks to launch control and an ultra-quick seven-speed dual-clutch box.
The 570S's handling is as impressive as its straight-line rush, too. The carbon-fibre chassis is very stiff, giving the suspension a solid platform. Even so, the damping is fluid and copes with broken UK B-roads beautifully.
Unlike most of its rivals, McLaren went with hydraulically assisted rather than electric power-steering for the 570S, and the benefits are brilliant. There's lots of feel and feedback, which gives you a great deal of confidence.
Tweaking McLaren's Active Panel lets you firm up the dampers and improve throttle response in Track mode. The grip on offer is staggering, and the car simply turns in and drives hard out of corners. But even if the tail steps wide or the front slides, it can easily be reined back in thanks to the perfectly weighted controls.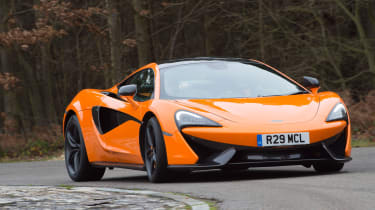 McLaren has also succeeded in making the 570S incredibly usable, so it's easier to get in and out of than its bigger brother, the 650S, while the low dash makes for great forward visibility. A 144-litre boot means it has more luggage room than a Porsche 911 Turbo, too.
The shrink-wrapped design and advanced digital dash ensure it looks and feels at the cutting edge of the performance car market, which is exactly what you expect from McLaren. The 570S is a stunning car.
Our choice 
McLaren 570S (£143,270)
With only one engine and gearbox option, the big choices will come down to colour, wheel design and how much you want to personalise your car. McLaren's Special Operations department gives near-limitless scope for customisation, but it doesn't detract from the 570S's incredible chassis or sense of occasion.
Commended 
BMW M2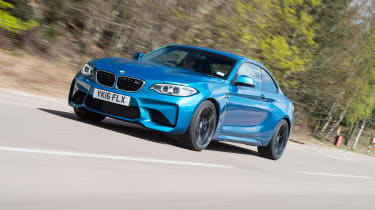 BMW's M Division is back to its best with the M2. It combines a 365bhp straight-six turbo with a beautifully balanced rear-drive chassis, so you can access the car's full performance potential. Plus, there are enough smart touches inside and out to make it look and feel special.
Ferrari 488 GTB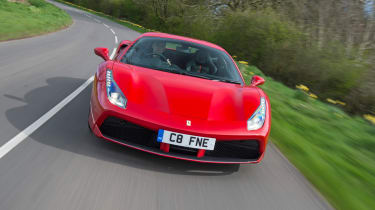 Turning to turbocharging could have spelled disaster for Ferrari, but the 488's new 661bhp 3.9-litre V8 shows the competition how turbo engines should be done. It delivers absurd performance with delectable mid-engined balance and poise thanks to some extremely sophisticated chassis tech.
Auto Express New Car Awards 2016 
For complete, in-depth coverage of the New Car Awards 2016, buy your collector's edition copy of the Auto Express magazine now or click here to subscribe...