Luxury Car of the Year 2016: Mercedes S-Class
The Mercedes S-Class is the 2016 Auto Express Luxury Car of the Year, with the Bentley Mulsanne and Range Rover commended
This year, a host of new and updated luxury cars are vying for the attention of well heeled buyers, but none has been able to knock the Mercedes S-Class off its perch, and it seals its third win on the trot in 2016.
It doesn't matter whether you look at the car's cutting-edge technology, its imposing design or its beautifully crafted interior, the latest S-Class sets new standards in every area.
• Best luxury cars available right now
Then there's its comfort and refinement. All models come as standard with air-suspension, which effortlessly soaks up bumps and potholes as if they weren't there. There's even the clever Magic Ride Control that uses cameras to scan the road ahead and prime the suspension for the terrain.
All versions feature a long-wheelbase bodystyle  that offers acres of space in the back, while reclining seats add to the club class atmosphere. Then there's the tasteful design and hand-crafted finish that constantly remind you you're in something special.
It's not just passengers who benefit from Mercedes' single-minded pursuit of perfection, as the S-Class is as good to drive as it is to be chauffeured in. The slick steering and muted yet muscular V6 diesel give it the sort of agility and pace you'd expect from a car half its size. And for those with the deepest pockets, the wild AMG-tuned S 63 and S 65 pack a punch that will leave supercar drivers red-faced. There's even a choice of eco-friendly hybrids – traditional petrol and diesel/electric models, plus a more advanced petrol plug-in.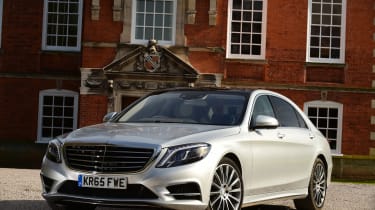 And like all generations, the current car is a rolling test bed for Mercedes' latest tech. From its autonomous cruise control to its extensive use of TFT screens in the cabin, the S-Class is always ahead of the curve.
We crowned the previous model our luxury car champ for seven years on the trot. On this basis, it could be a long time before we hand the award to any other car.
Our choice
Mercedes S 350d SE L (£68,870)
The 'entry-level' SE L has all the kit you'll need, including air-suspension, leather trim and four-zone climate control, while the V6 diesel delivers hushed yet muscular performance. Vast long-wheelbase body means there's more space in the back than you'll know what to do with. 
Commended
Bentley Mulsanne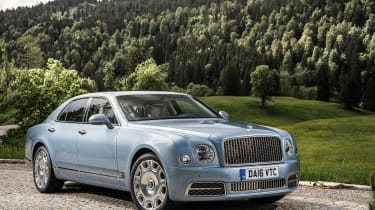 Recently updated Mulsanne delivers the ultimate in hand-crafted luxury. Under the bonnet is Bentley's mighty 6.75-litre turbo V8 engine, which delivers the punch of an iron fist in a velvet glove. It's not as spacious as the vast body suggests, but the bespoke cabin is beautifully finished and impeccably comfortable.
Range Rover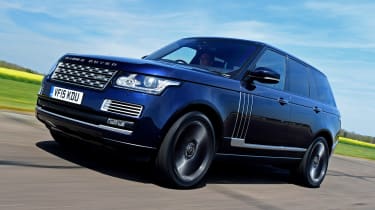 More than four decades after its debut, the Range Rover is virtually unrivalled with its unique abilities. The big Brit is as happy on a country estate as it is cruising down the high street thanks to its blend of luxury, comfort and go-anywhere ability. The torquey and frugal V6 diesel is our pick of the engine line-up.
Auto Express New Car Awards 2016 
For complete, in-depth coverage of the New Car Awards 2016, buy your collector's edition copy of the Auto Express magazine now or click here to subscribe...