Vauxhall Grandland X offers 1.5-litre diesel for £24k
Vauxhall's Grandland X steps up its challenge to the Nissan Qashqai and Peugeot 3008 with a new 1.5-litre diesel engine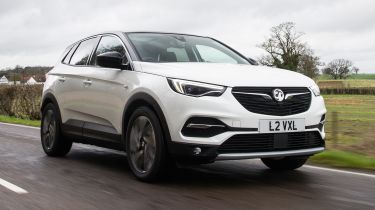 Vauxhall has added a new 1.5-litre Turbo D diesel to its Grandland X range, with the new engine priced from £24,190.
Available with an eight-speed manual gearbox, the new engine majors in fuel economy and low emissions. It claims 68.9mpg and emissions of 108g/km, and Vauxhall claims it can compete with higher capacity engines in terms of performance thanks to its 128bhp power output. The engine actually delivers a 10bhp power increase on the old 2.0-litre diesel that it replaces in the Grandland X range.
The 1.5-litre Turbo D engine is available with a new eight-speed automatic gearbox, with an optimised torque converter to boost smoothness and reduce vibrations. It includes Vauxhall's quick shift technology that increases shift speeds across automatic and manual modes.
"The high-tech design of the new 1.5-litre diesel in the Vauxhall Grandland X enables customers to combine the fun of a compact SUV with the powerful performance and low emissions of an advanced diesel engine," said Ian Mitchell, Vauxhall's Grandland X Brand Manager.
Prices for the Grandland X 1.5 Turbo D kick off at £24,190 for the SE model, with first deliveries due in July.
Read our review of the Vauxhall Grandland X…