Next Vauxhall Zafira and Meriva MPVs to use PSA platforms
Vauxhall's new Zafira and Meriva MPV range will be based on technology developed with PSA Peugeot Citroen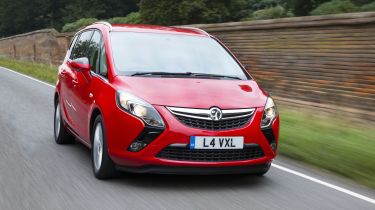 Now that Chinese firm Dongfeng has bailed out Peugeot, Vauxhall and PSA are still forging ahead with a partnership that will include three all-new models.
Vauxhall's European boss, Karl Thomas Neumann, told Auto Express that it was crucial for the company to cut costs by entering into such deals, although the original plan to build a small city car has been ditched. Instead the next Meriva, Zafira and a new commercial vehicle will all use Peugeot platforms and engines.
"Opel is the third largest carmaker in Europe, we built a million cars last year but we need volume platforms. Only two cars that don't sit on those platforms." Said Neumann. Apparently GM will pay PSA a set transaction price per car as part of the deal, but the exterior and interior design will still be bespoke to Vauxhall.
• Geneva Motor Show 2014: round-up
"Of course they cannot be the same car [as PSA] because as soon as they leave the factory they are competitors, but we will make sure it feels like an Opel."
He went on to explain that Vauxhall's new £7,000 city car – which was originally planned as a partnership – will now be developed exclusively by Vauxhall. This means that they can bring it to market faster – and include more GM content.
Neumann said: "Ideally I would build every car on a GM group platform, because it means that I can fit our latest engines, and our technology, but for those two cars there is not enough global volume to justify the cost of developing one."
Next Vauxhall Zafira could be a 7-seat crossover
Although he would not be drawn on the exact details, Neumann also hinted that both of these cars are likely to become more crossover than MPVs. He said: "Crossovers are becoming more and more popular, and we will follow what these customers want, so both of those cars will move in that direction"
That might mean that the seven-seat Zafira will become a replacement for the Captiva and create space for a larger SUV to join the range with a Buick chassis, but Neumann was tight-lipped about this, but he did unerline the difficulty of launching a car in that category: "The larger the car, the more brand sensitive the buyers so for now we focus on smaller, more intelligent cars in Europe."
In its first full year this tie-up between two major European players, which also includes logistics and purchasing of materials, will save both companies €60m with more savings further down the line as the new models arrive and go on sale.