Volkswagen Project Trinity: new details of VW's next-generation EV platform
VW's future-gazing Project Trinity is still in the works, but it won't hit initial deadlines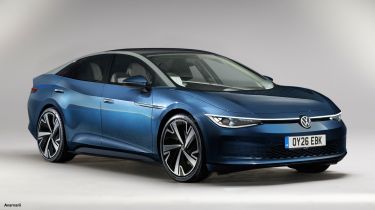 In an effort to combine all its most ambitious electric vehicle and driver assistance technology into one halo program, Volkswagen is working on what it calls 'Project Trinity'. This advanced program of hardware and software development has been referenced publicly by the brand since 2021, and will eventually take the form of a flagship production model later this decade. Our exclusive image preview how it could look.
Since the program's announcement Project Trinity's progress has been hit with delays, though, resulting in the production model's initial 2026 deadline slipping to some time towards the end of the decade and a restructure of its management team. 
Yet Volkswagen remains confident in the ultimate value of the project. Trinity will act as a standard bearer for the firm's future tech, if not necessarily for its future direction in terms of price. The company claims Project Trinity will deliver charging times that are "as fast as refuelling" a petrol car and says that the EV will set new standards for driving range. Volkswagen hasn't yet confirmed a figure, but the brand is adamant that its new architecture will make Project Trinity the class leader thanks to a focus on reducing weight – a current weakness of EVs.
Autonomous driving technology
VW will also significantly advance autonomous driving technology with Project Trinity. From launch, the EV will be offered with Level 2 driver assistance tech, not unlike many systems on the market today.
However, this will only be a jumping-off point for the technology, as Trinity will feature all the necessary hardware for Level 4 automated driving – with functionality due to be unlocked as soon as regulations allow. That means the car can drive itself, (normally within a specific geo-fenced area), without the need for close human supervision or intervention.
The system would assume so much control over the vehicle that the driver could direct their attention to other matters, such as online shopping or replying to emails. Legislation has been slow to respond to such technology, but Mercedes recently gained approval from the German government for a similar Level 3 system, paving the way for other manufacturers.
VW has confirmed that Project Trinity will be built at its facility in Wolfsburg, which will soon be transformed into a new EV production centre, with €89 billion (around £75.7 billion) of investment planned over the next five years. The plant will also handle full production of the ID.3 hatchback from 2024, to meet the increasing demand for electric vehicles.
Herbert Diess, former Volkswagen's CEO, said: "Our business model is undergoing radical change – Volkswagen is being transformed from a traditional automotive manufacturer to a vertically integrated Group with strong brand groups and world-leading technology platforms. 
"Wolfsburg, our Group's long-established headquarters, will be central to the transformation, because we can only safeguard our strong position long term if Wolfsburg is successful. We will give the Wolfsburg site a new identity with our vision for 2030. 
"Our goal is to create an internationally sustainable site with efficient Group steering, two electric manufacturing facilities, plus a state-of-the-art research and development center, and to establish and expand other future-oriented fields."
Partnership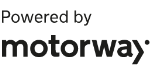 Need to sell your car?
Find your best offer from over 5,000+ dealers. It's that easy.
The factory will be built on the outskirts of Volkswagen's current headquarters. The firm will then modernise its Wolfsburg facilities over the coming years to match the Project Trinity plant's level of technology.
Ralf Brandstätter, former CEO of the Volkswagen brand, has also described the car as "a highly efficient flat-seat concept with an iconic design – our innovation leader. Trinity is a sort of crystallisation point for our Accelerate strategy, a lighthouse project, our software dream car."Accelerate refers to the brand's pledge to make more than 50 per cent of its sales in the US and China fully electric by 2030, while focusing more heavily on developing digital technology and software – both in its cars and its production methods.
Project Trinity teaser image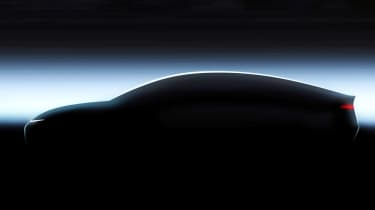 Volkswagen's previously published teaser image gives little away about Project Trinity's styling. However, it's clear to see that it will be a low-slung model, while a separate image hints at a very wide track, suggesting massive interior space.Speaking on the prosecution of Project Trinity, Brandstätter added: "Wolfsburg is becoming a flagship for innovative, fully networked production processes. We will demonstrate that you can build innovative electric cars in a highly efficient and economical way not only in Berlin, but also on the shores of the Midland Canal."
Project Trinity will see the VW brand steer itself more towards the tech-led, software driven end of the market. It is likely that fewer variants of the new model will be produced relative to what is considered the norm today – indeed the hardware across the range is likely to be near-identical throughout.
By 2030, the Group anticipates that one third of the revenues in the global mobility market will come from software-based services. So, the brand has set aside €30 billion (around £25.5 billion) for the digitalisation of its services and sales. That figure also includes the cash to develop the firm's autonomous technology.
Specification changes will come through software changes – and it'll be possible for many of the optional extras to be switched either on or off either via subscription services or through smartphone apps. This, according to Volkswagen, will help to simplify (and therefore cut costs of) the production process; an area that will become further streamlined thanks to a digitisation of the brand's Wolfsburg plant.
"In the future, the individual configuration of the vehicle will no longer be determined by the hardware at the time of purchase." says Brandstätter. "Instead, customers will be able to add functions on demand at any time via the digital ecosystem in the car."
Elsewhere at Volkswagen, the company has plans for a €2 billion (roughly £1.7 billion) investment in the brand's Salzgitter facility, which will soon become the development, planning and control centre for the Group's entire EV battery production scheme. Volkswagen also recently signed three new partnerships with key EV battery raw material suppliers and research companies, which Salzgitter will also soon manage.
Click here for our list of the best electric cars on sale right now...