New Volkswagen ID.2 SUV on the way
Volkswagen is working on an entry-level all-electric small SUV, and our exclusive image previews how it could look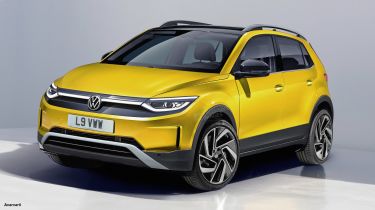 Volkswagen's growing range of all-electric ID. cars will soon gain a practical compact crossover in the form of the VW ID.2 SUV. Our exclusive image shows how it could look.
Despite having an extensive range of six internal-combustion engined SUVs, Volkswagen has been a little slow to roll out all-electric SUV alternatives, with just the Tiguan-sized ID.4 and ID.5 hitting the showrooms so far. The ID.2 will branch out into the popular small SUV segment - where VW's ICE offerings consist of the Taigo, T-Cross and T-Roc. 
Underpinning the ID.2 SUV will be the MEB Entry platform - which we'll see on the production version of the ID.2all concept. That means a selection of 38kWh or 58kWh batteries should be offered, with up to 280 miles of range available from a single charge. We expect 125kW DC rapid charging to be made standard, too. 
Volkswagen CEO Thomas Schäfer has been pushing the brand to return to simpler physical controls after the much-derided touch-sensitive functions. As we saw on the ID.2all concept, there should be large switches on the dash for the car's more frequently-used features, such as heating, ventilation and audio volume. 
Volkswagen is targeting a price of around £20,000 for the ID.2 supermini when it goes on sale in 2025. For the SUV variant we expect it to rise a little given the extra size it should afford, but it'll still be comfortably under the ID.3, at around £28,000. As for the on-sale date, the SUV is expected to arrive shortly after the supermini. 
Click here for our list of the best electric SUVs on sale right now...