Get cheap car insurance with Volkswagen engineering
Volkswagen cars are designed and built to achieve the lowest possible insurance costs. Find out how.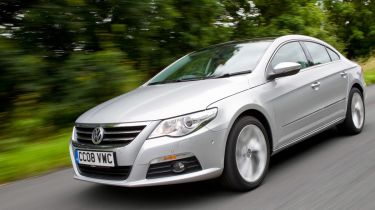 Car insurance is an expensive necessity for every motorist but Volkswagen keeps its customers' premiums to a minimum with the help of Volkswagen precision engineering.
Volkswagen engineers the highest standards of safety into its products – from the latest active safety systems to help prevent accidents to passive safety technology that will protect you and your family should the worst happen. Plus, advanced security features are designed to deter thieves from targeting a Volkswagen in the first place.
This all contributes to Volkswagens having some of the lowest car insurance groupings on the market, with the up! ranging from groups 1E to 4E, and the Polo and Golf starting from groups 3E and 7E respectively. Even the classy Passat family car starts from a competitive insurance group 16E.
Buyers on the lookout for cheap car insurance will quickly realise that a cheap car isn't necessarily the best option. Insurers look far more favourably on tough, well engineered models when calculating the risk involved in covering the driver – and this is where the integral strength built into every Volkswagen pays dividends.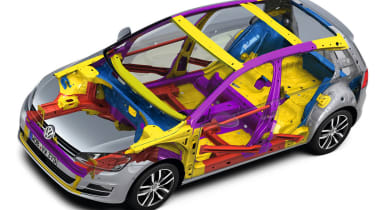 Every Volkswagen is constructed from hot-forged steel, so is tough and light, while the incredible attention to detail lavished on every model, no matter where it's built, ensures a long and reliable life on the road. From the laser seam welding, which gives amazing strength and solidity, and perfect panel gaps on the body, to the numerous coats of paint applied to achieve a flawless yet durable finish, the production process is geared up to deliver impeccable quality.
But Volkswagen products aren't only designed and constructed to stand up well to damage in the event of a crash; they're also equipped to help prevent accidents in the first place. Volkswagen has set the standard in the city car market by including Electronic Stability Control on nearly every version of the up!, while other groundbreaking active safety features such as the City Emergency Braking system can be added as great-value options.
Move up the range, and the suite of safety features becomes even more comprehensive. For example, the cruise control system on SE-spec Golfs upwards includes Automatic Distance Control, which uses sensors to monitor the distance to the vehicle ahead and brake the car to a standstill if necessary. And if you do have a crash, a post-collision braking system helps prevent the car from being involved in a secondary accident.
Such active safety kit has been proven to bring premiums down – indeed, the Association of British Insurers has called for all manufacturers to install systems like this. The ABI's Scott Pendry has said: "Fitting this technology as the norm will not only further improve road safety, but will significantly lower insurance costs." And it works in tandem with features like Lane Assist, Side Assist and Front Assist to provide reassurance for drivers on fast A-roads and motorways.
The range-topping Volkswagen Touareg 4x4, for example, comes with the option of an Area View camera system that provides a bird's eye view to help drivers pull out of parking spaces. And that's on top of the Park Assist and Rear View Camera options that help prevent less confident drivers picking up parking scrapes that could quickly hike their insurance premiums.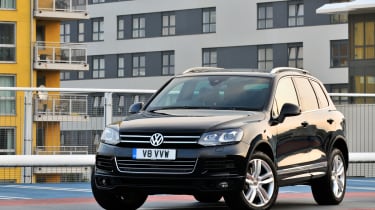 The comprehensive passive safety equipment included on every Volkswagen will have just as much of a role to play in delivering low car insurance groups and cheap car insurance premiums. Five-star Euro NCAP crash test ratings across the range prove how much protection every model provides, whether it's from its array of airbags – four on the up!, six on the Touareg and seven on the Golf – or the crumple zones engineered into the design.
Advances in security across the industry have seen car theft rates tumble in recent years. Thieves are being forced to look at increasingly sophisticated ways to make their living – but thanks to precision engineering, Volkswagen is always one step ahead of the criminals. A raft of advanced security features is available, including electronic engine immobilisers on all models, while hi-tech optional alarm systems add to the appeal for insurers.
If your Volkswagen is damaged, whether by vandals or in an accident, it's designed to be simple – and therefore inexpensive – to repair. Parts can be removed and replaced quickly and easily, and this means every Volkswagen will be viewed as less of a risk, and that'll translate into cheaper car insurance premiums.
Find out more about the benefits of Volkswagen engineering here