New Volkswagen Golf Bluemotion 1.5 TSI details revealed
New VW Bluemotion Golf uses 129bhp 1.5-litre TSI and returns a claimed 61.4mpg thanks to engine-off coasting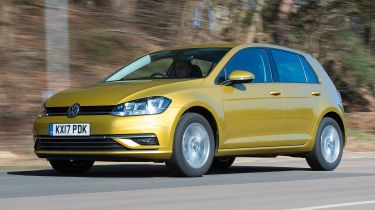 A new Volkswagen Golf was launched this year – a facelifted version of the seventh generation VW family hatchback, which VW itself calls the Golf Mk7.5. With minor styling tweaks and an equipment boost, the freshened up Golf also benefits from new engines under the bonnet, with a new 1.5-litre turbocharged 'TSI' petrol engine being the big news in this department.
• New 2017 Volkswagen Golf: all the details
Volkswagen has now revealed fresh details about the efficient and economical Bluemotion variant of the car, which makes use of the 1.5-litre power unit, detuned to 129bhp.
The main development is the introduction of new engine-off coasting abilities, meaning the engine will switch off while coasting at speeds up to 81mph. This powertrain is mated to a DSG gearbox as standard, and Volkswagen has added a compact lithium-ion battery too – not for propulsion but rather to supply power to the vehicle's systems and equipment while the engine is switched off.
Power is now regulated through a new 'Q-diode', which manages the flow between the lithium-ion cell and the vehicle's standard lead-acid batteries.
In terms of fuel consumption, VW claims that the new Golf Bluemotion can achieve 61.4mpg with tailpipe emissions of 104g/km on the New European Driving Cycle. The new Golf 1.5 TSI Bluemotion will go on sale this summer.
Does the new VW Golf Bluemotion sound good to you? Let us know in the comments.