VW Polo BlueGT prices
Prices have been announced for the Volkswagen Polo BlueGT, and the range starts from £17,400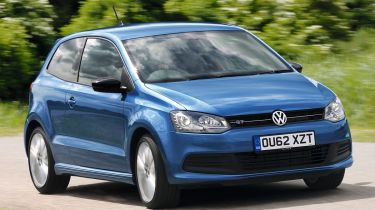 Prices for the Volkswagen Polo BlueGT have been confirmed, as the order books open for first deliveries in December. The BlueGT starts from £17,400 for the three-door model, and £18,020 for the five-door.
The Polo BlueGT features VW's new EA211 1.4-litre TSI petrol engine, which the firm claims offers the performance of a petrol engine with the economy of a diesel.
In the BlueGT, the 1.4 TSI unit develops 138bhp and 250Nm of torque, and powers it from 0-62mph in 7.9 seconds and on to a top speed of 130mph - this is just a second slower to 62mph and 12mph down on the Polo GTI, which costs upwards of £19,930.
However, the BlueGT model returns average fuel economy of 61.4mpg and emits 107g/km of CO2, beating the GTI by 6mpg and 32g/km. The BlueGT can't quite match the £16,020 Polo SEL TDI's 78.5mpg, but beats its 112g/km CO2 figure.
The Polo BlueGT's performance is down to the new engine's cylinder deactivation technology. Under light and medium throttle, the second and third cylinders automatically shut down, which VW claims saves up to 0.4 litres of fuel for every 62 miles driven.
The remaining cylinders reactivate "imperceptibly" when the driver requires more power from the engine. A display in the instrument binnacle lets the driver know when cylinders are deactivated.
Polo BlueGT models get 17-inch alloys, the same rear spoiler and front bumper as the Polo GTI and the side sills and front windscreen rain channels from the Polo Bluemotion.
Full Polo BlueGT prices are as follows:
| | | | | |
| --- | --- | --- | --- | --- |
| Model | Engine | CO2 | MPG | Price |
| Polo BlueGT 3dr | 1.4-litre 138bhp 6 spd manual | 107 | 61.4 | £17,400 |
| Polo BlueGT 5dr | 1.4-litre 138bhp 6 spd manual | 107 | 61.4 | £18,020 |
| Polo BlueGT 3dr | 1.4-litre 138bhp 7 spd DSG | 107 | 61.4 | £18,745 |
| Polo BlueGT 5dr | 1.4-litre 138bhp 7 spd DSG | 107 | 61.4 | £19,365 |