New Volkswagen Polo 2014 review
Changes are mainly under the skin for new 2014 Volkswagen Polo, with extra equipment and new engines
The smartest-looking supermini just got smarter with the addition of some enhanced safety equipment and connectivity and interface options from the world of smartphones. It's all as neatly packaged as ever, and while it's not as much fun on the road as some it's difficult to fault. Spend the extra on the 74bhp unit, though, and it's enough to transform this from a three-star to a four-star car.
This is a new Volkswagen Polo, but it's more of the same if the styling is anything to go by, VW's refresh of its supermini contender a bit on the conservative side. Styling changes limited to the grille, lights and the bumpers, though even these are pretty difficult to spot. Good looking as ever, then.
What is significant is Volkswagen's work underneath that new, if familiar, body. The engine range has been extensively re-engineered, the Polo as fresh-breathed as it comes with its EU6 emissions compliant engines, the fuel efficiency gains as much as 23 per cent over its predecessors.
The line-up consists of a pair of three-cylinder petrol MPI units of 59bhp or 74bhp, two 1.2 TSI four-cylinder petrol choices of 89bhp or 108bhp, a 1.4 TSI with 148bhp and a pair of three-cylinder 1.4 TDI units with 74bhp and 89bhp.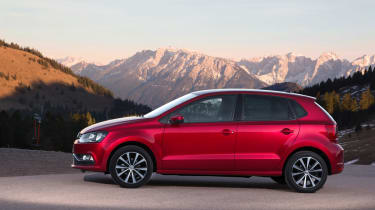 It's not just under the bonnet where the Polo has been tweaked, the 'new' car featuring a far more comprehensive equipment list as standard. All come with a ESC electronic stability control, Hill Hold and Automatic Post-Collision Braking System to increase safety, while optionally the Polo is offered with a driver alert system, adaptive cruise control with front assist and city emergency braking.
It's the infotainment enhancements that'll appeal most though, every Polo now coming with Volkswagen's latest modular touchscreen with proximity sensor. It reacts to swiping movements like your smartphone and offers plenty of connectivity options, apps, DAB radio, USB and Bluetooth. SE spec gains a bigger 6.5-inch version of the screen - over the 5-inch one in S trim - while it's possible to option sat nav for a further £700.
That SE specification is anticipated to be the biggest seller in the UK, mated with the entry-level 1.0-litre MPI petrol engine in the five-door body. For a three-cylinder unit it's surprisingly smooth, its enthusiasm for revs not really matched by any corresponding increase in pace on the road. Its performance is adequate around town, but out of it you'll be busy with the five-speed gearbox and overtakes will be fraught, long-drawn out affairs.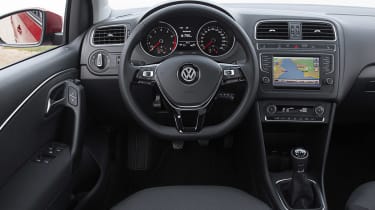 Refinement levels are superb, the Polo's interior typically solidly built and clearly defined, the changes, like the exterior, being very subtle. That big touchscreen works well, while the additional option of a £150 'MirrorLinkTM' allows it to display exactly the content of your mobile phone on the screen - with the obvious exception of video channels like YouTube.
Plenty distractions inside then, though not really enough to hide the 59bhp's relative shortcomings in performance, nor the gearshift's less than accurate movement. It's fine, though if you're after fun then there's better choices out there, the Ford Fiesta for example.
That doesn't really change with the 74bhp version of the same engine, but despite its small incremental on-paper performance increases - it only dropping a second off the 59bhp car's time to 62mph - but it feels significantly quicker in reality.
The economy penalty is all but non-existent, too. In either the steering remains fairly inert, though VW's sensible lack of sporting pretensions with the suspension does mean it rides nicely enough, the trade off being some roll in the bends.
Keep it sensible, as buyers will and the Polo is as brilliantly conservative, effortlessly classy and beautifully built as ever, only now more economical and better equipped as standard.