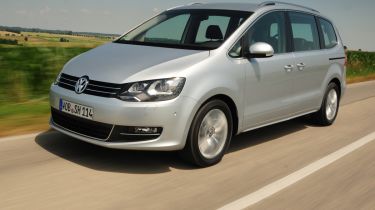 The VW Sharan offers all the appeal of the SEAT Alhambra with a slightly higher-quality interior – and a slightly higher price to match. But the VW brand image will be a selling point for many buyers, plus the Sharan promises a more comfortable ride than the Alhambra. It also has the advantage of the pre-paid maintenance packs VW offers, which allow buyers to stick to the variable service intervals and keep on top of any problems without breaking the bank.
Like its SEAT sister car, the Sharan packs a lot of practicality into its generous dimensions. The flexible interior provides the same 2,297-litre maximum boot size, plus sliding and reclining middle-row seats. Equipment is fairly generous across the range, but go for an SE-spec version to get essentials like Bluetooth, parking sensors and a multifunction steering wheel.
Again, a diesel engine is the best choice if you plan to drive the car fully loaded frequently, and these also have the best towing capacity. The Sharan 2.0 TDI 140 BlueMotion Technology mixes torquey performance with 50.4mpg fuel consumption and 146g/km emissions. The latter means competitive road tax bills, while no model has an especially high insurance group.