Volkswagen Touareg V8 TDI unveiled at Geneva
Volkswagen unwrapped its new 4.0-litre V8 diesel SUV at the Geneva Motor Show, boasting a torque figure of 900Nm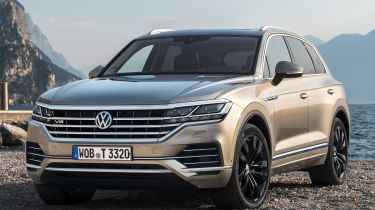 The new Volkswagen Touareg V8 TDI was unveiled at this year's Geneva Motor Show. When it reaches the European market in May, it will be the most powerful model offered by the brand, and the most powerful diesel SUV from the VW Group. Unfortunately, Volkswagen has confirmed the model will not be sold in UK.
Powered by a turbocharged 4.0-litre V8 diesel engine, the new Touareg produces 410bhp and 900Nm of torque. Performance is fed through an automatic gearbox and an all-wheel-drive system, with Volkswagen claiming a 0–62mph time of 4.9 seconds and a top speed of 155mph.
• Best SUVs and off-roaders to for 2019
Range-topping versions of Volkswagen's latest Touareg come equipped with a set of 19-inch alloy wheels, air suspension, an electronically-operated tailgate, tan leather upholstery, wood and aluminium trim, stainless steel pedals and Volkswagen's "Light & Sight" package, which includes automatically dimming exterior mirrors and automatic headlights.
Volkswagen's latest SUV also comes with a host of driver assistance technology, including Night Vision (which detects pedestrians and animals in the dark using thermal imaging), Traffic Jam and Roadwork Lane Assist (a partially-automated driving mode for speeds up to around 40mph), four-wheel steering and active anti-roll bars.
European pricing information for the new Volkswagen Touareg V8 TDI is expected to be released after the Geneva Motor Show closes its doors, along with the car's full specification.
Now read our review of the Volkswagen Touareg. Let us know your thoughts in the comments section below…