Racing version of 313mpg VW XL1 considered
A Volkswagen XL Sport, a racing version of the XL1 diesel hybrid, could be on the cards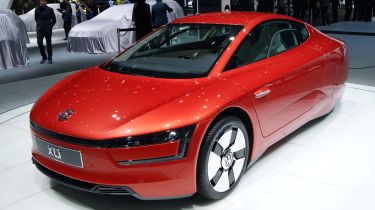 A Volkswagen XL Sport, a racing version of the 313mpg VW XL1, is being considered for production, with the race track car using a two-cylinder engine from a Ducati superbike in place of the diesel-electric powertrain.
Volkswagen board chairman Ferdinand Piech revealed the plans for the newcomer while speaking at Vienna University of Technology. Reports suggest that it'll get a 187bhp engine, which should provide plenty of performance to the lightweight carbon fibre car.
Even with heavy batteries and a diesel-electric powertrain on board, the XL1 still weighs only 795kg so you can expect the XL Sport to weigh even less. With that in mind, and if fitted with the same quick-shifting dual-clutch gearbox as the XL1, the sportier versions should be able to sprint from 0-62mph in around 4 seconds.
There's no confirmation on when we'll see the XL Sport, but it's likely to be a very limited production run, with cars only set up for use on the track. The use of a Ducati engine is possible because the motorbike manufacturer is now part of the Volkswagen Group after Audi bought the company in early 2012.