Volkswagen XL1 priced from £99,000 in the UK
The super efficient VW XL1 is on sale in the UK for £98,515, with a total of 200 set to be built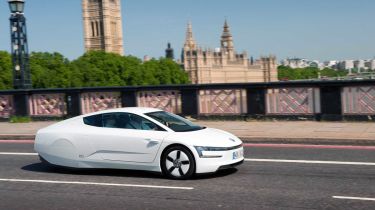 Volkswagen has confirmed the XL1 will cost £98,515 when it arrives in the UK this autumn.
Only around 200 production models will be made at VW's Osnabruck factory in Germany, with around 30 examples of the highly efficient plug-in hybrid making their way to the UK.
While it's still possible to register an interest in purchasing the XL1, sources within the company have confirmed a significant amount of interest already.
Aside from the exclusivity offered by such a limited run, the Volkswagen's appeal is largely down to an official combined economy figure of 313mpg and emissions of just 21g/km of CO2 – making it the world's most efficient liquid-fuelled production car.
This is partly thanks to the plug-in hybrid powertrain, which combines a compact 47bhp 800cc two-cylinder TDI diesel engine and 27bhp electric motor. Sending a total of 74bhp to the rear-wheels through a modified seven-speed DSG transmission, the XL1 can hit 0-62mph in 11.9 seconds before maxing out at an electronically limited 99mph. Alternatively, in electric-only mode the two-seater can cover up to 31 miles, producing zero local emissions.
Volkswagen has also worked hard to improve efficiency by shedding as much weight as possible – just under a quarter of the car is made from steel or iron, with carbon fibre-reinforced plastic being used to keep the kerbweight down to 795kg.
The XL1 has been aerodynamically optimised, too, using a wind tunnel-honed 'tear drop' shape that encases the rear wheels and sees traditional wing mirrors replaced by small cameras. Such innovations have resulted in a drag coefficient of 0.189 – a Nissan GT-R's is 0.27 – which apparently means 62mph can be maintained on a level road with only 8.3bhp.
According to project manager Lianne McKnight, this technology will eventually filter down to many mainstream VWs, describing the XL1 as "an example of the type of car we may be driving in 15 years time".