New Car Awards 2014: Design Award
The Volvo Concept Estate wins this year's Auto Express Design Award, voted for by you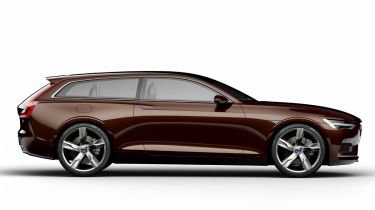 The public has spoken – and voted the Volvo Concept Estate as the most stylish car of the past 12 months. Visitors to our website picked this classy car ahead of some seriously desirable metal, such as the BMW i8, the Jaguar F-Type Coupe and the wild Maserati Alfieri concept.
Volvo is in the process of revamping its brand, and it says a lot that the main message it wanted to get across is that its sense of style is back. The way the company did that was by unveiling three separate concepts at consecutive motor shows, with the Concept Estate last to appear at Geneva back in March.
It followed on from the two-door Concept Coupe and crossover-style Concept XC, but you fell in love most with the Concept Estate simply because it's the most traditionally 'Volvo', harking back to the gorgeous P1800 ES of the seventies.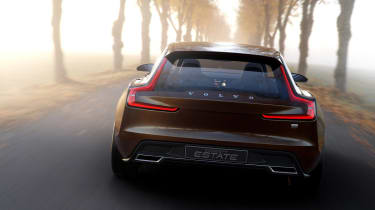 The man behind the show car, senior vice president of design Thomas Ingenlath, explained: "The 1800 models are iconic Volvos, renowned for their beautiful forms and detailing. However, using elements from their exterior and interior has nothing to do with being retro. We are using these subtle links to a glorious past to create a future in which sheer beauty becomes a recognised part of Volvo's identity."
Ingenlath is hinting at the fact that the Concept Estate is actually a clear look at the styling of the next-generation XC90, which is due to appear at October's Paris Motor Show. The bold, wide, upright grille, the gently curving body panels and those shapely tail-lights are all features we'll see on the big SUV when it hits dealers next year.
In fact, that front end is set to become the face of all Volvos in the near future. And judging by the sheer number of you who voted for it, this is a look we can expect to see a lot more of on Britain's roads.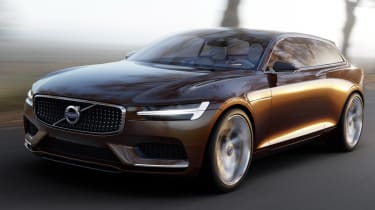 Your choice
As ever, our design award was decided by Auto Express readers – and you voted in your thousands. The Volvo was a clear winner, beating the Land Rover Discovery Vision concept into second and the Jaguar F-Type Coupe into third. And you were glowing in your praise for the car. User 'Albert' summed up the thoughts of many when he told us: "This is a really stylish design. Volvo, you must build this car!"