Big Volvos to get small 1.5 3-cylinder engines
Volvo is developing a 1.5-litre 3-cylinder turbo engine that could power entry-level versions of the S90, V90 and XC90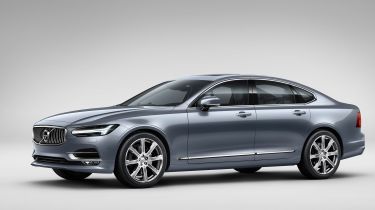 Volvo is likely to fit its forthcoming S90 saloons with turbocharged three-cylinder power, according to the firm's boss of research and development, Dr Peter Mertens.
The Volvo S90 will launch in the UK with a mix of four-cylinder diesels and T8 hybrid, which mixes a 2.0-litre four-cylinder petrol engine with an electric motor. However, Volvo is already working on a 1.5-litre turbocharged three-cylinder petrol engine as it prepares its new small-vehicle architecture in conjunction with its Chinese owner, Geely - and Mertens admitted that early tests have been promising enough for the unit to be considered for use in larger vehicles.
"We have been running a V40 mule with the turbocharged three-cylinder engine and a dual-clutch gearbox, and it's already excellent," he said. "With the 1.5 we can easily get up to 150bhp and more, and unless somebody told you, you wouldn't know it's a three-pot. We will definitely have it in the next '60' series models (S60, V60 and XC60) and I can easily see how it would end up in the S90 as well. It's really promising."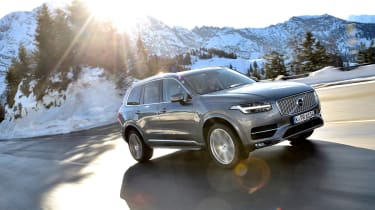 The three-cylinder motor is likely to be offered in the larger cars as part of a softer, more modest hybrid set-up that will sit below the T8 in the range. A four-wheel-drive 'T6 hybrid' could have around 250bhp from a mix of the turbocharged petrol unit and an electric motor that drives the rear wheels. Such a set-up could easily be offered as a cheaper and even more efficient addition to the S90, V90 and XC90 line-ups.
Mertens also revealed that while the small Volvos - S40, V40 and a new XC40 baby SUV - will share their platform with Geely's Chinese-market vehicles, there are likely to be changes to key parts such as subframes as the European brand prioritises refinement over cost. "There's lots of commonality," he said, "but our targets are slightly different in that area so we're probably a bit more focused on noise reduction. Delivering the level of refinement we want is always going to be the big challenge with the smaller car."
What do you think of Volvo's plans for 3-cylinder engines in executive cars? Let us know in the commnets section below...