Volvo XC90 - Best diesels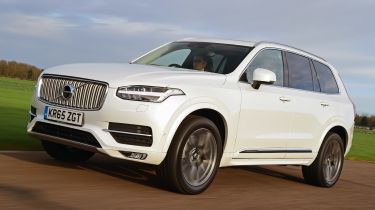 The Volvo XC90 SUV was named Auto Express Car of the Year in 2015, and our 2016 Large SUV of the Year.
That's largely thanks to the XC90's trailblazing combination of technology, efficiency and safety. The big Volvo is also a refreshing antidote to all the German brands that are so effective in the SUV sector, thanks to the 'lighter touch' of its Scandinavian design.
The CX90 boasts family-friendly practicality, while its array of technology includes energy-absorbing seats, City Safety auto-braking, Queue Assist and a self-parking mode.
There are punchy petrol and eco-focused hybrid versions of the XC90 available (incidentally all using 'downsized' 2.0-litre four cylinder engines) but as we're talking diesels for this feature, we're here to sing the praises of the entry-level XC90 D5. It gets a 22bhp twin-turbo 2.0-litre four, which offers reasonable performance and efficiency, while sounding impressively refined and cultured in spite of its small-ish capacity. It will also return 49.6mpg, which isn't at all bad for a full size SUV.