Cooper Zeon 4XS Sport review
The Zeon 4XS Sport is showing its age when it comes to fuel consumption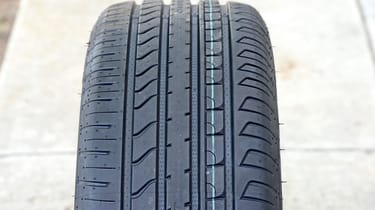 Cooper-owned Avon appeared in our tests for the first time for many years in 2018 and now it is the turn of the US parent brand to follow suit. The Zeon 4XS Sport is the first of the designs made specifically for SUVs and 4x4s, rather than an adapted car tyre, that we come to. 
It is good to see how the company measures up to its European and Far East rivals, but sadly the Zeon 4XS Sport is not in the first flush of youth because it went on sale in 2016. A lot of tyre tech has been developed since then, yet it still has an A wet-grip label rating. It was able to take second in the closely matched wet circle, although it struggled in handling and braking, finishing last in the latter.
It took more than three metres further to stop than the pace-setting Nokian,and was still doing 18mph when the Powerproof had stopped. It struggled in the aquaplaning tests, lacked sharpness on the handling track and spun its wheels more easily than the rest, too.
Braking was also a problem in the dry, although it was only around a metre off the best. The same lack of sharpness was there and it could be felt in the steering response. Even so, it hung on well and was mid-pack in the dry tests, but its results unravelled at the pumps. It was way off the best and would use five per cent more fuel than the top Continental.
Blackcircles.com says...
"At the time of writing, Blackcircles.com does not stock this tyre, so we can't provide any insight into its popularity or performance with our customers"
Figures
Cooper Zeon 4XS Sport
Overall
98.30%
7th
Price
£115.50
 
Wet handling
97.70%
7th
Wet braking
91.70%
8th
Wet cornering
99.10%
2nd
Straight aquaplaning
93.30%
8th
Curved aquaplaning
79.80%
8th
Dry handling
99%
4th
Dry braking
97%
7th
Rolling resistance
75.40%
8th
Cabin noise
98.20%
7th