Continental PremiumContact 6 review
A winner at the pumps and easy on the wallet, but you pay a price in the wet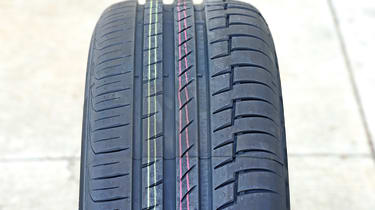 We struggle to know where to start with this performance. It's all the more surprising given this tyre was first last year and Continental also took victory in the all-season and winter tests. The results are also contrary to those we usually see from the German brand.
It normally stars in the wet, particularly in braking, while fuel economy is not at the top of its performance targets. However, here the PremiumContact 6 is the most fuel-efficient, yet in smaller 17-inch car form it was mid-pack, behind several rivals.
It was also the best in the wet, while this SUV version was only sixth across the handling, braking and aquaplaning tests. It struggled in the braking, where it usually excels, and was off the pace on the wet circuit. Not everything has changed with the switch to the bigger size, because the sharpness we felt with the car version was still there. It felt one of the best, but it just didn't deliver the lap times on the circuit and the circle. In the braking test it was just under two metres off the best. Dry performance was much as we expected, with the same sharpness and grip.
Overall, the change is hard to explain. It's almost as if the company has altered its design philosophy, emphasising fuel economy rather than wet performance. But we doubt that's the case and we're sure Continental will look at this tyre again.
Blackcircles.com says...
"Over 450 reviews from customers have earned an impressive 4.7/5 score. They remarked on reliable wet grip performance and responsive handling"
Figures
Continental PremiumContact 6
Overall
99.10%
5th
Price
£134.70
Wet handling
98.30%
6th
Wet braking
95.50%
6th
Wet cornering
96.50%
7th
Straight aquaplaning
94.10%
7th
Curved aquaplaning
83.60%
7th
Dry handling
100%
2nd
Dry braking
98%
4th
Rolling resistance
100.00%
1st
Cabin noise
99.10%
5th