Falken Azenis FK510 SUV review
Impressive all-round result from Falken which performed well and, importantly, felt good to drive.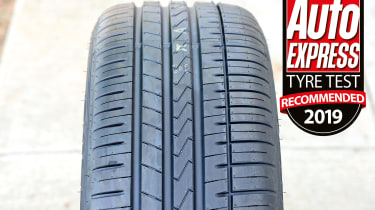 Our tests have seen a steady improvement for the Falken FK510. It was joint fifth last year and this SUV version took a well-deserved second here. It could so easily have been a win because the final scores were that close.
Its result is all the more impressive because it's a 2017 tyre, although as we've seen before, the German-based Japanese brand does a very good job of developing its tyres during their life. The FK510 was the dry-track star, securing wins in both handling and braking tests.
You could appreciate that performance on the handling track, where the steering was sharp and combined with good grip, particularly through faster sweeps, which were taken almost flat out in our Tiguan. Some needed a lift, but the Falken gripped and had decent traction in tighter turns.
Good dry performance is often traded off against wet grip but the FK510 was one of the best on the handling track and circle. Here it felt the sharpest after the Continental but, unlike its German rival, it combined that with good grip in the faster sweeps plus useful traction in the sharper corners. It was close to the leaders in the noise and straight aquaplaning tests but a bit more off the pace in the lateral test.
The only real concern is fuel economy where it finished in the middle of the pack chasing the Continental.
Blackcircles.com says...
"Not a high-selling tyre, but buyers have left good reviews, with strong grip singled out for praise. Interest may well rise after this impressive result"
Figures
Falken Azenis FK510 SUV
Overall
99.80%
2nd
Price
£133.79
Wet handling
99.80%
2nd
Wet braking
98.60%
5th
Wet cornering
98.80%
3rd
Straight aquaplaning
96.20%
6th
Curved aquaplaning
85.50%
6th
Dry handling
100%
1st
Dry braking
100%
1st
Rolling resistance
79.40%
6th
Cabin noise
99.70%
2nd