Car polish
Which is the best car polish on the market? We deliver the answer in our biggest-ever test of 50 leading products...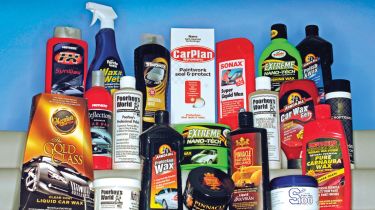 After a long winter, your car not only deserves a good waxing - it needs one. Paintwork exposed to rain, snow and grit during the cold months has to be revived.
Now's the time to put the sparkle back into your motor. But waxing it is hard work, and you want all that effort to last, which is why we have put together this 50-polish mega test. Which are the shining stars?
The test
the last thing you want to see is all the hard graft of polishing vanish with the first rain shower, so at the heart of our test is stamina.
We tested all types of product, including polishes, waxes, sealants, synthetics and the latest offerings which you apply straight after rinsing your motor. Two bonnets were used, and we left control areas to ensure equal conditions. Our samples were checked regularly over eight weeks to see which were still beading water and offering protection. The test was two weeks longer than previous assessments, really stretching each product.
We also took into account ease of application and, of course, cost. The figures quoted are pack prices, and do not include delivery charges from online sources.
Verdict
It was very close at the top, with Turtle Wax's Extra Gloss narrowly taking the title from fellow non-abrasive sealant and stablemate Gloss Guard, and Comma's champ from last year.
However, the third-placed Top Gloss is our favourite conventional polish. It's ahead by a clear margin from the Simoniz Original Wax and CarPlan's Nanomeric Sealant.
Top five car polishes
1. Turtle Wax Platinum Extra Gloss 2. Turtle Wax Gloss Guard 3. Comma Car Polish 4. Simoniz Original Wax 5. CarPlan Nanomeric Paintwork Seal & Protect