Kenwood DNX4210DAB stereo
Kenwood has launched the world's first double-height stereo with DAB and navigation - we test it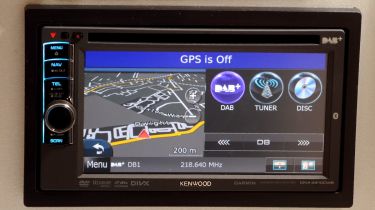 Kenwood has become the first manufacturer to sell a double-height stereo with digital radio and navigation. But has the new DNX4210DAB been rushed out to get an edge over rivals?
We don't think so – this is a good-looking and feature-packed head unit. There's a CD slot at the top (it plays MP3 discs, too), and the rest of the facia is neat – there are only four buttons and a click wheel. That makes it easy to quickly select sat-nav, phone or audio, and adjust the volume without touching the screen.
The touchscreen reacts quickly to inputs, too. Menus are clean and the myriad audio sources simple to flick between, while we like the picture icons. With our iPhone plugged into the USB at the rear, we were able to play music and view album artwork from music-streaming app Spotify – and we were very impressed that you can change the track using the screen or your phone.
Bluetooth works clearly using the included microphone, and the sat-nav is as accurate as you'd expect from Garmin, although you can't pinch to zoom. You can, however, split the screen to show navigation and music.
It's the DAB radio that makes this a must-have stereo, though. The signal is clear with the aerial supplied and, for £1,000, there's not much to complain about.
What's good? Excellent for adding market-leading tech to an old car. And the DAB radio is great quality.
Not so good? We'd prefer it if the USB and aux-in sockets were on the front of the unit.