Headlamp bulbs tested
As we head into winter, decent headlamp bulbs are as vital as any other safety kit on your car. We pick from 25 top buys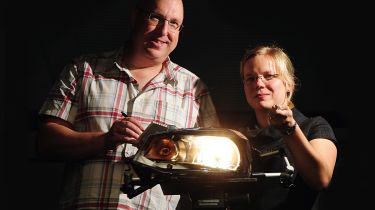 See and be seen on the road this winter! Headlamp bulb makers have upped performance again, with some now claiming 100 per cent more light. Do they deliver? We test 25 of the latest over the next three pages to find out.
You don't have to wait until a bulb fails to upgrade; all lamps dim in time, and the latest performance versions will give a big improvement. Output claims refer to the extra light over a standard bulb, 75 metres ahead of the driver – just where you need it on unlit roads at night.
Makers have been hiking output ever since plus 30 per cent bulbs debuted in the early 2000s. The H4 twin-filament bulbs we tested appeared in the Sixties, but advanced production methods have allowed firms to push them to the limit.
Take Osram's Night Breaker Plus; it uses filters on the glass to bring super-bright filaments back within legal levels. But upping output on any bulb hampers longevity – so long-life products (tested for the first time here) are worth a look, especially as changing can be so fiddly.
We spent a day in Osram's light tunnel near Munich, Germany, to pick the best bulbs in three different categories.
How we did it
Two samples of each bulb were tested in a VW Polo MkV headlamp – its reflex reflector and clear lens would highlight any deficiencies. Glare was adjusted to legal levels, and we measured dip beam 50 and 75 metres ahead of the 'car'.
The readings were combined, with the focus on the furthest marker, to rate the beam, and our results are an average of the two bulbs. We corroborated the top results by measuring the light output from the filament itself. This can also reveal manufacturing flaws.
It was clear headlights need adjusting when you fit new bulbs, as there are big differences, even between those in the same pack. We tested long life and standard, up to plus 60 per cent, and plus 100 per cent and white bulbs. We bought all our bulbs or took them from multipacks to prevent maker filtering. Prices are for a pair, excluding delivery. Cost played a minor role in this safety-focused test.
Verdict
Making light work of rivals are original equipment suppliers Philips and Osram. These brands have driven development, and it's no surprise to see them on top. Taking victory in the long life and standard section is Philips EcoVision, which also promises fuel savings and durability. Osram rules in the performance categories, with its Silverstar winning in the up to 60 sector and new Night Breaker Plus proving the best of the 100 per cent bulbs, ahead of Philips' all-new X-tremeVision. 
Winner: Philips EcoVision
Winner: Osram Night Breaker Plus