Trolley jacks tested
Trolley jacks make DIY car maintenance easier and safer. We try out 12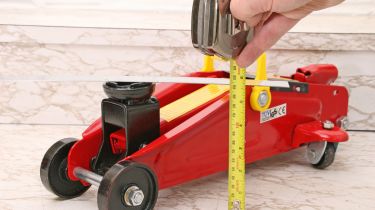 You won't get far with DIY maintenance if you can't raise your car to get underneath it. You could use the standard kit in the boot, but these tend to be built down to a price and weight. They're only really suited to emergency wheel changes.
And as efforts to reduce weight gather pace, many modern cars don't even come with a basic jack. So whether you're rotating tyres, replacing brake parts or working on your suspension, a trolley jack is the answer.
They're a quick and safe way to get the car up on axle stands, and won't break the bank. But which is the one to raise your spirits? Here, we pump up 12 examples to find out.
How we tested them
Ease of use and safety are key here. We measured how low and high each jack went and how many pumps it took to reach 20cm – a commonjacking height. We also checked for features like one-pump, quick lift to the jacking point, a large saddle, easy pumping under load and a carry case. We also wanted to see clear instructions, with key elements (such as using axle stands, wheel chocks and opening the release valve slowly) repeated on the chassis. Purchase price (excluding delivery) played a small role in our verdict.
Verdict
Clarke's CTJ2QM ticks all our boxes with its quick lift, case and large saddle. Halfords' easy-to-use 2 Tonne jack takes second spot, just ahead of our pick of the 2.25-tonners, Sealey's 1025HL.
1. Clarke CTJ2QM2. Halfords 2 Tonne3. Sealey 1025HL