The future of car gadgets
Tech-giant Harman gives us a glimpse into the future of in-car gadgets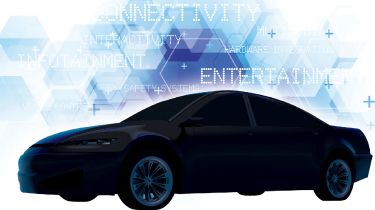 In-car technology is evolving at a rapid rate as motor manufacturers continue to develop groundbreaking solutions, every one improved on the last, to make drivers' lives easier. 
Leading the way in producing some of the most pioneering in-car technology available is Harman, which has teamed up with the Fiat group to provide original equipment for everything from the humble Fiat Panda to the exclusive Ferrari F12 Berlinetta. 
We headed to Harman's new offices, stationed less than a mile away from Fiat's headquarters in Turin in northern Italy, to find out what this new wave of in-car entertainment promises.
• Driverless cars could be on the road by 2015
Most of the concepts we saw won't be available immediately, but should start to be rolled out on production models over the next 10 years. And they won't be restricted to the Fiat group, as many rival car manufacturers are waiting in the wings with similar concepts to those we tried out. 
From advanced smartphone integration to widescreen TVs in autonomous vehicles, here is what the future holds for in-car technology.
Remote firmware updates
Expected: 2016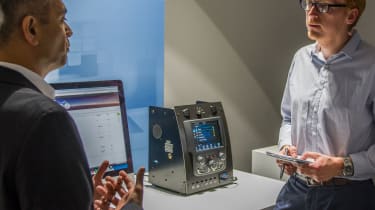 By equipping a car's stereo with 3G – the tech most smartphones use – makers can update on-board software remotely. This saves drivers the hassle of updating when new software has been released for troubleshooting, to reconfigure the display or to install fresh sat-nav maps. It's all done at the driver's convenience as programmers will send out invites to update, although data files are being kept small to suit 3G's limited bandwidth capabilities. Faster 4G will surely follow.
Data logging 
Expected: 2017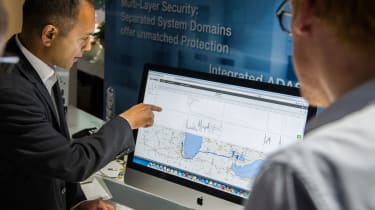 Collecting consumer data is important to the likes of Harman to help improve future hardware. Engineers can collate software crash reports from in-car entertainment systems to prevent them recurring.
• Do black box telematics really work?
Plus, data will even give exact feedback of what consumers are using – not just essential functions, but how often steering wheel controls are used compared to touchscreen controls, for example. Makers can then design new hardware around these usage patterns.
Clari-Fi
Expected: 2015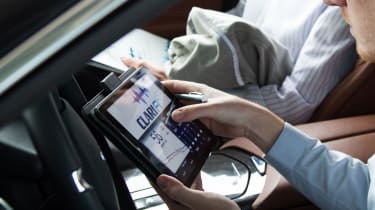 To fit a lot of music on to a device such as a smartphone, audio files need to be compressed – but this in turn hits sound quality. Clari-Fi rebuilds what's lost in the compression process and works with all common audio files.
• Meridian sound-system impresses in our long-term Range Rover
It's not restricted to smartphone music files – it also extends to audio streamed from YouTube, Spotify and other Web-based services. Clari-Fi is an app, and for it to work you'll need a tiny piece of hardware, fitted to the head unit or to an amplifier.
Front-facing multimedia screens
Expected: 2025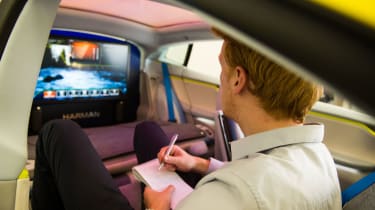 If fully autonomous cars ever become widespread, this futuristic idea could be a reality. In this Rinspeed Tesla Model S, a widescreen TV sits in front of the rear window. With the front-facing screen, you can watch movies, play video games and access content also available to view on the dash display while the car is moving. The two front seats simply spin around so driver and passenger watch the screen as the car takes control.
Tablet-based infotainment system
Expected: 2020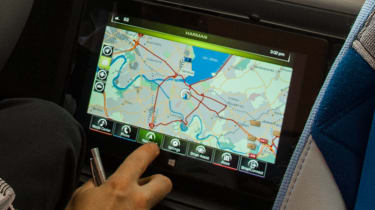 There are already some aftermarket in-car tablet holders, while Tesla has a similar large screen in its Model S, but solutions like this from Harman offer full integration in more mainstream cars. From controlling music and entering sat-nav routes to configuring car settings, it'll have a key role to play. A tablet could replace gauges like the speedo, while monitors would stop it performing tasks if it knows the driver is busy, such as taking calls.
Oakland infotainment platform
Expected: 2017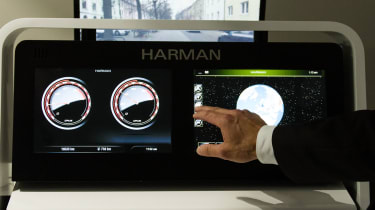 Harman's Oakland infotainment platform aims to achieve seamless integration with phones, cameras, dash instruments etc. The system builds on set-ups like Apple CarPlay to establish a wireless mirror link between smartphone and dash display, so apps like Google Maps can be used to navigate on the go. Meanwhile, front and rear-facing cameras can interact with hi-tech systems such as autobraking and lane-keep assist.
Multi-manufacturer hardware
Expected: Now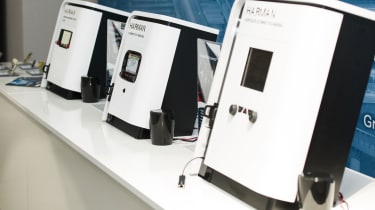 The existing range of car entertainment systems made by Harman is found in most new cars within the Fiat group, but the platform and structure are the same – whether it's in a budget Fiat or top-spec Ferrari. Fiat group brands build over four million cars a year, so using similar parts between models saves costs in the mass-production process. Several rival manufacturers have already copied this, and others are set to follow.
Aha interactive internet services
Expected: Now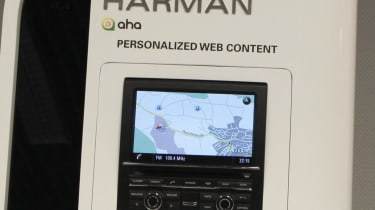 Many drivers have used Aha in their car before, but perhaps only to stream digital radio. Yet this Web-based service can do much more, even reading out content from apps that would normally only be available via text – from news and E-mails to social media updates. Drivers receiving text messages can use Aha to respond via voice control, plus it partners sat-nav software, so it can find points of interest, such as restaurants or hotels.