Range Rover TDV6 Autobiography long term test review
Final report: Fond farewell to luxury off-roader that's pride of Britain
Final mileage: 22,844 milesReal-world economy: 34.5mpg
After 12 months and nearly 23,000 miles, it's time to draw a conclusion from my time living with our Range Rover. My view is that it really is the best of British, so it seemed only right to take it along to meet another British icon, the Supermarine Spitfire, which sits proudly at RAF Northolt in West London – a site I drive past twice a day on my commute into London.
I know luxury motoring isn't about economy, but I have to start with the car's fuel consumption. Given how much of my journey is spent in stop-start traffic, my current average of 34.5mpg is exceptional. Sure, a lot of the miles have been covered on motorway trips to football in Liverpool and family in Lincolnshire, but getting so close to the claimed average of 38mpg is pretty rare.
Much of that is down to the aluminium construction of the Range Rover, which, as well as saving weight, helps the big SUV feel surprisingly wieldy on the road. That's impressive, but this car is really about style, sophistication, refinement, comfort and imperious ability over any terrain.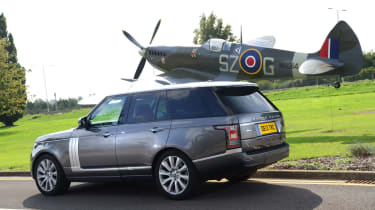 I went off-road a few times, and the juxtaposition of sitting in the most luxurious surroundings, with pretty inhospitable terrain outside, really plays with your head. There are few cabins as smart or as well appointed as the Range Rover's; it's just a shame the slow and dated touchscreen lets the side down.
But how easy was it for my family of five to live with? Well, the wide rear bench will easily cope with three adult- sized kids, and we regularly managed to fill the boot with luggage and dogs, although the drop-down lower section of the tailgate makes retrieving items from the very back a bit awkward. I've no need to use it as a seat, so a one-piece tailgate would be better, if less traditional.
Driving the Range Rover is a serene experience, and I've regularly covered around 400 miles behind the wheel in a day. Seat cooling and massaging help, but generally it's the quietness and supple ride that pamper you most of all.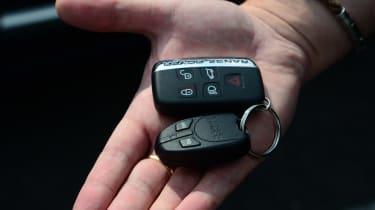 I've only been mildly frustrated with the 3.0-litre V6 diesel's response away from a standstill, but there's plenty of power for overtaking. It hasn't been all plain sailing, although my only problem with the car was a 'charging system fault' warning light. Other than that small issue, my Range Rover has behaved impeccably. That's not the case with every owner, though – common problems we've heard about include suspension creaks.
However, it's a measure of the car that most owners seem happy to overlook some gremlins and enjoy the Range Rover for what it is: one of the best examples of British engineering. After a year of premium motoring, it remains my luxury car of choice.
Range Rover TDV6 Autobiography: report 5
Premium Range Rover SUV is perfect companion for a posh short break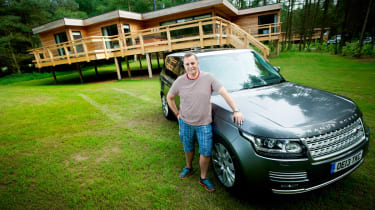 Mileage: 16,355 milesReal world fuel economy: 32.5mpg
It's been a busy couple of months for my Range Rover – so much so, the mileage has shot past the 16,000 mark, meaning service time. More of that in a bit, but the highlight of the past few thousand miles criss-crossing the country was a family holiday to North Yorkshire.
We went to stay at Studford Lodges not far from Thirsk on the edge of the North York Moors. There are a lot of similarities between the Lodges and my Range Rover: top-quality fixtures and fittings, comfort and quiet, and a great view out from a high-up seating position.
Just like my Range Rover, Studford is a fine example of British cool – something I enjoy every day when I look at my car: there's always a design feature to savour.
Studford Lodges' owner Rob Fawcett also runs a Range Rover – his is the Sport model, with the same 3.0-litre V6 diesel as our car. Surprisingly for a pair of ex-boy racers (Rob runs Redline Racing, which races – and wins – in the Porsche Carrera Cup), our conversation wasn't about 0-60mph times, but economy – Rob says he often touches 40mpg in his car, while my current average of 32.5mpg (and still climbing) impresses the heck out of me.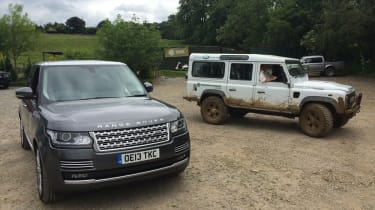 My car isn't the Sport model, but it still felt sprightly on Yorkshire's twists and hills. Then there's the traditional Range Rover forte of being able to go where no other luxury car dare tread. This time, though, we left it in the car park to tackle some serious off-road courses in one of Yorkshire Outdoors' Defenders. But back on the road, one thing I noticed was how many Land Rovers there were up in Yorkshire. It felt like I was on an owners' club rally.
Had I planned ahead, I might have saved a few quid by getting a service up North. As it was, I returned to North One in London, which serviced the Evoque we used to run on our fleet. Once again, it was efficient, but £417 is steep for what's little more than an oil change – especially when the oil cost almost as much as the labour.
North One also completed four software upgrades that were due. This left me without the car for more than the scheduled day. You expect such updates on complex modern vehicles like the Range Rover, but I was surprised how long they took. Still, as usual, my car was returned valeted – as it should be for that price.
I can't say I've noticed any difference to the car post-service. It continues to run impeccably and is a real pleasure to pilot. It's no surprise I barely notice the number of miles I'm driving these days.
Get the full in-depth verdict on the Range Rover here
Range Rover TDV6 Autobiography: report 4
After nine months on fleet, it's back to school for Range Rover report four as our man's kids get driving lessons on the road and off it
Mileage: 12,496 milesReal world fuel economy: 32.2mpg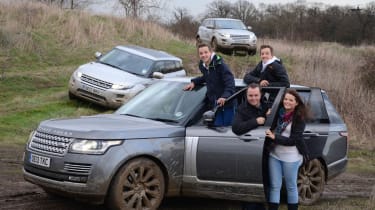 Nine months into our Range Rover ownership, and it's had quite an effect on the Fowler household. So much so that my kids have become brand advocates – they love everything Land Rover. My 15-year-old daughter is even eyeing up a Defender for her first car.
So when Land Rover announced its Start Off-Road Experience for 11-17-year- olds, it was something I was pestered into trying. With prices starting from just £43 for 30 minutes, it's more affordable and arguably more fun than many of the other car park-based young driver programmes. And with me being me, I couldn't resist taking my Range Rover along for good measure. Gemma's a bit of an old hand at driving already, but this was 13-year-old Harry and Jack's first time behind the wheel. Beginning your driving career in a Range Rover Evoque is a pretty good place to start.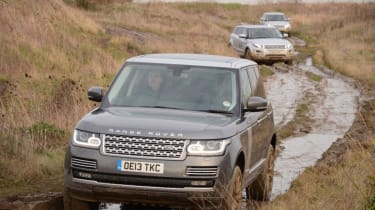 What pleased the kids most was the relaxed way the instructors taught them – it felt as far away from the classroom as possible, even though the venue, the West London Shooting School near Northolt, Middlesex, is only 10 miles from home. After a short safety briefing and gentle initiation on the flat, it was on to the rough stuff.
I rode in the back of an Evoque during the initial training, but afterwards I followed in my Range Rover. The air-suspension and raised ride height made what was a bumpy ride in the Evoque silky smooth in my car.
Even during a downpour and over the roughest stuff, my Range Rover just clambered over the seriously horrible terrain on standard road tyres, without having to adjust the Terrain Response system into any of the manual modes – I left it in automatic and let the car's brain work everything out for me.
And this is one of the wonders of Range Rover ownership – you have this juxtaposition of inhospitable terrain the car just rolls over, while you sit in a cabin trimmed like the finest drawing room.
Back in everyday use, the whole Fowler family appreciates the space and comfort in the Range Rover. As for me up front, I'm really enjoying the power, refinement and quick reactions of the V6 diesel (why would you need the V8?). Plus, fuel economy has gone up to a highly reasonable 32.2mpg – in spite of a daily commute into central London.
After a couple of early electronic blips, my car is behaving well, too, and the Meridian audio system just gets better. So all is good with the Range Rover experience, although my kids will have to learn that life for them as first car owners will be very different…
Get the full in-depth verdict on the Range Rover here
Range Rover TDV6 Autobiography: report 3
Auto Express editor-in-chief has his entire record collection uploaded to the Range Rover's amazing Meridian system.
Mileage: 8,179 milesReal world fuel economy: 31.1mpg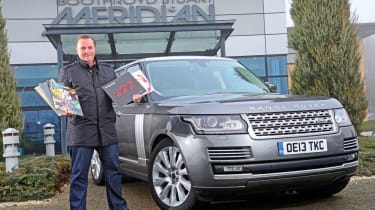 Such is the way of the world these days that going home, delving into my vinyl record collection and sitting back and listening to some music just doesn't happen any more. My love of music and quality audio systems remains, though, which is why a decent stereo in my car is an absolute must – as it is for most of today's car buyers.
Thanks to those clever folk at Apple, pretty much my entire music collection comes everywhere with me these days – and plugs perfectly into the audio system in our Range Rover TDV6.
I opted for the rather extravagant, but utterly astonishing, Meridian Signature Reference System in my car for £4,000. So I decided to visit Meridian headquarters in England's hi-fi valley in Huntingdon, Cambridgeshire, to find out more about what makes my car's system so special.
Meridian has been producing top-end audio systems for 37 years, combining clever engineering with innovative design – not unlike Land Rover. I was treated to ademo of the £65,000 home audio system and a personal performance inside the company's own cinema room – not unlike the Meridian theatre I'd experienced at Land Rover's handover centre at the Solihull factory.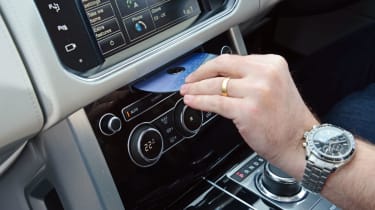 Meridian systems have been used by musicians and movie makers around the world, and I can understand why. Whether it's in the cinema, in front of the home audio system or in my car, I'd describe the sound as natural – just as the artist intended.
The Range Rover features an incredible 1,700 watts of power and 29 speakers everywhere from under the driver's seat to the rooflining. Plus, as is the Meridian way, numerous clever electronics control the sound, upscale the compressed music from my iPhone and direct it around the car.
Some surround systems can sound false with sonic gaps as different musical elements are sent to the different speakers. But using Meridian's Trifield 3D tech, it sounds smoother, richer and more enveloping. It's very clever and very enjoyable.
As art director Darren Wilson said when he borrowed the car recently, you discover bits in music tracks you've never heard before. While the sound is faultless, the bit Land Rover does – the touchscreen interface – lets the side down. It's dated, fiddly to use and doesn't look as premium as the rest of the car.
I've also had a warning light appear on the dash claiming there was a charging system fault. The car seemed fine, but it's taken two software updates to cure the problem. Other than that, my Range Rover has behaved perfectly. The quality of the fixtures and fittings is first rate, the comfort is incredible – especially the sumptuous head restraints – and refinement is top-notch.
This is one seriously pampering car. While my car was having its second software update, it was swapped for the V8 version. Good though that is, I'd always recommend the more frugal and sweeter V6. It may lack some of the oomph of the V8, but is certainly swift enough and has better throttle response, too.The engine also sounds pretty good, although that's when I haven't got the stereo system turned up – the Meridian system really is one to experience and enjoy very loud!
Read our full Range Rover review here
Range Rover TDV6 Autobiography: report 2
The sumptuous Range Rover SUV is giving us the red carpet treatment – and has more sense of occasion than any other luxury limousine.
Mileage: 4,632 milesReal world fuel economy: 28.5mpg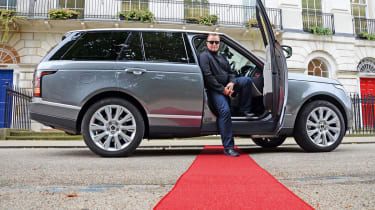 There are plenty of luxury cars out there, but how many really give you the full red carpet experience? Here's a test for you: imagine you're a movie star leaving your latest premiere and outside the cinema is a line-up comprising the new S-Class, Audi A8, BMW 7 Series, Jaguar XJ and a Range Rover. Which one do you jump in to get to the after-show party?
If it was me in the dark glasses with light bulbs popping, I'd head for the Range Rover. Yes, I know the S-Class beat it in our luxury car test in Issue 1,290, and I can't argue that the magnificent Merc is a technological tour de force. But as a car to be seen in (or getting out of), the latest Range Rover has its rivals licked.
Two months into ownership and with nearly 5,000 miles on the clock, I've still got that new car buzz. Looks are subjective, but I love the Range Rover's smooth, minimalist lines inside and out – as well as the gentle, unfussed way it gets me from A to B.
This is one seriously comfortable car – smooth riding even when I forget to swerve around one particular pothole on my journey into work. I've even programmed the car to automatically give me a massage five minutes into my journey – something of a shock for colleagues when they grab the keys.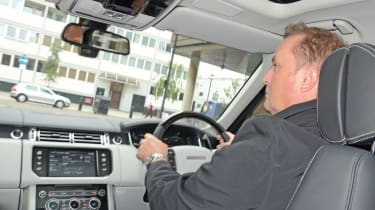 It's a car that makes every journey an occasion – especially for family and friends who get a lift. The big topic of conversation among four of us on the Range Rover's first trip from London to Liverpool to watch the football wasn't whether we'd hit nine past Crystal Palace again, but the pillow-like headrests.
I'm sure they'd do their job in a rear impact, but they also do quite a job at pampering. I have one minor and one major frustration with the car, though. With dark evenings upon us, I must get a dealer to adjust the headlamps – I'm fed-up with drivers ahead of me at the lights gesturing or oncoming cars flashing.
More annoying is the infotainment system – it's way behind the times with its dated displays and myriad menus. It doesn't even show album artwork from my iPhone. Shame,as the Meridian Audio system stands out – a little bass heavy, but with beautifully detailed sound. It deserves a better interface. Still, I'm not complaining about fuel economy.
The 253bhp V6 diesel is delightfully smooth yet with a decent turn of speed, and I'll put my current average of 28.5mpg down to our road test team having some fun with the car at the test track. It should soon creep back up above 30mpg, which is a decent return for a large 4x4 with such potential. I've some serious off-roading planned soon, so we'll see what effect that has on economy, too.
But it's the combination of comfort, refinement and a great stereo that makes the Range Rover a real pleasure to be in. So don't be surprised if the red carpet has to wait – life's too good inside to get out.
Get the full verdict on the latest Range Rover here
Range Rover TDV6 Autobiography: report 1
We welcome the mighty Range Rover Autobiography onto the Auto Express long term test fleet. Are the first impressions positive?
Mileage: 1,992 milesReal world fuel economy: 28.5mpg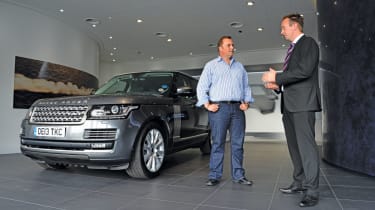 If proof were needed that the new Range Rover is now more luxury car than 4x4, the new handover centre at Land Rover's factory in Solihull, West Midlands, does the trick.
This is no ordinary showroom – a visit is by invitation only, through dealers and reserved for customers ordering Autobiography models. Luckily, that includes us. The imposing new glass-walled building is slightly at odds with the forties industrial scene behind it – a sign of just how far the company has come. We're met by customer service manager Richard Alun Jones and concierge Michael King, both immaculately dressed and ready to lead us through an incredible experience that will end with us driving off in our new car.
So what are we to expect? "We were tasked with creating the very best handover in the world," explains Richard. "No two experiences are the same – we tailor them to each individual customer."
The whole place is a cross between a top- class boutique hotel and an art gallery – with pieces of Range Rover hung on the walls as art. We skirt the offer of refreshments, have no need for the office facilities on hand and head straight to the Meridian Digital Theatre to watch a film on the history of Range Rover. Meridian is the company's audio partner, and with pyramid-shaped speakers around the room, the surround system whets our appetite for the 29-speaker set-up added to our car.
Next stop is the highlight of the handover: a spectacular sound and light show, projected on to a tightly wrapped Range Rover. As the show ends, the car's outline becomes more visible, and video of it being created is beamed on to the covers. Like liquid metal, the car gradually appears, then the lights go out, there's a rustle as the covers come off, the lights go up, and there's our brand new car.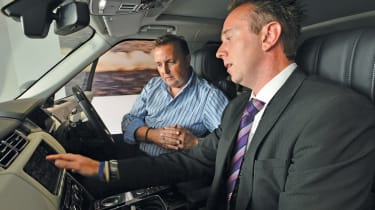 It's pure theatre – but it's not over yet. While the car is prepared for the handover, customers can embark on a tour of the factory and an off-road experience on Land Rover's legendary jungle course.
Back at the handover centre, Michael takes us through the myriad features of our new Autobiography. "We'll cover as much or as little as the customer wants," he says. For us, that means pairing our phone, showing us the powered tow hook and how you can lower and raise the car using the key fob when hooking up to a trailer – clever stuff.
Then it's out through the factory gates and off on a year-long journey with our current Luxury Car of the Year. As it has a total price of £93,910, we were expecting a fair degree of pampering, and the handover centre is the perfect start.
With a couple of thousand miles on the clock already, we're impressed by the fit and finish inside the car. The refinement and comfort on the road are superlative – it seems to glide effortlessly whatever the surface – while the 3.0-litre TDV6 engine provides just enough powerto haul this sizeable SUV quite quickly.
And then there's the style – this is a car that makes you feel a million dollars every time you go out for a ride in it. That's a rare feat, even in vehicles of this price.
Range Rover TDV6 Autobiography: tester's notes
The views of our expert road testers from the long term test log book of the Range Rover TDV6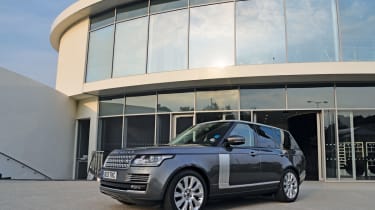 "Thanks to its all-new aluminium structure, the latest range rover is around 400kg lighter than its predecessor. As a result, the V6 diesel has no problem hauling along such a large car. In fact, the performance is so convincing, you wonder why anyone would fork out extra for the V8 versions."Dean Gibson - Deputy road test editor
"In the few months the Range Rover has been on sale, its residuals have taken a real hammering. Familiarity and a greater supply of cars have seen our experts' predictions plummet by around 10 per cent. Even so, a return of 47.1 per cent is still very good for a luxury limousine."Dean Gibson - Deputy road test editor
"Not only would I have the V6 diesel over the V8, I'd specify the standard model ahead of the new long-wheelbase version. Sure the newcomer has more legroom in the rear, but the stretched body looks awkward compared to the perfect proportionsof our SWB machine."James Disdale - Road test editor
Range Rover TDV6 Autobiography: any problems?
• A 'charging system fault' warning light came on but was fixed after two software updates (month six).
Read our full in depth review of the Range Rover here