New Alpine A110 Sport on the way with even less weight and 300bhp
A faster and more powerful version of the new Alpine sports car is on the cards, producing up to 300bhp from a tuned 1.8-litre turbo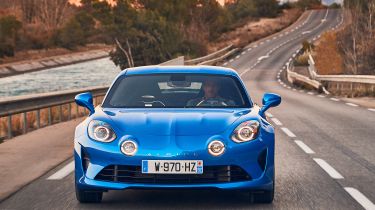 Alpine's return to form will, in the fullness of time, see the company produce not only an SUV but also a hotter version of the well received A110 sports car, Auto Express can reveal.
Known internally as the 'Sport Chassis' model, the range-topping A110 will have as much as 300bhp from a tuned version of the standard car's 1.8-litre engine. This will fire the tweaked A110 from 0-62mph in less than four seconds, though it's not clear whether the electronically limited 155mph top speed will be boosted, too.
• Alpine A110 first drive review
The A110 is already an extremely light car due to its widespread use of aluminium. However, Alpine's engineers reckon they can suck up to 50kg out of the car by paring back on the interior trim – with a target weight of just 1,050kg.
The chassis and suspension will also be "between 15 and 20 per cent" stiffer on the Sport model, though the brakes will remain the same as the base car due to the slight reduction in kerbweight. Programming for the dual clutch gearbox and steering, exhaust and ESC systems will be revised to deliver yet more response – especially in Track mode.
Prices and specs for the Alpine A110 Sport model haven't been established but expect a 10 to 15 per cent premium over the regular model, which looks likely to cost around £49,995 when it goes on sale in the UK next year.
The Sport version could appear as early as the summer of 2018, given that work on the car is already close to being signed off.
Do you like the idea of a more focused Alpine A110? Let us know in the comments...