New Callum Vanquish VC25 revealed as shooting brake
The Aston Martin Vanquish designer has created a new take on his own icon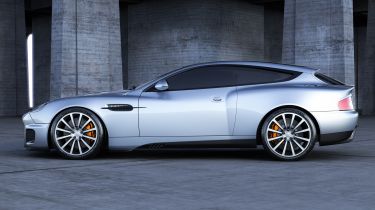 When we drove the Callum Vanquish 25 by R-Reforged we were impressed with the way it handled, the way it looked and the level of customer interest despite the near half a million pound price tag. Well, now legendary designer Ian Callum has given us a look at his latest project - a shooting brake version of the Vanquish 25 coupe, known as the Vanquish VC25. 
Ian Callum posted the side profile image of the new car with the quote: 'Taking our Vanquish to a new form'. The elongated roofline allows for a shooting brake bodystyle and a new rear lip spoiler has been added too. \
The rest of the design appears to stay true to the Callum Vanquish we experienced back in 2020, which featured plenty of tweaks over the original Aston Martin Vanquish. A new front end with a revised grille, LED lights front and rear, added brake cooling, a larger rear diffuser and new 20-inch wheels. 
As for the powertrain we expect to see the same reworked, naturally-aspirated six-litre V12 with 580bhp (60bhp up on the old Vanquish S), plus a custom exhaust system. Power will be sent through a six-speed manual transmission to the rear wheels. We also expect to see a 10mm lower ride height coupled with a 60mm wider tack, although with the extra mass of the shooting brake design the chassis could be tweaked specifically for this model.  
Just 25 examples were planned of the Vanquish 25, only time will tell if this new VC25 iteration will be just as rare. 
Now read more about the upcoming Aston Martin DB12...