Audi launches new "one-stop-shop" service plan
The Audi All-in scheme is aimed at models aged between three and six years old and includes two services, two MOTs and an extended warranty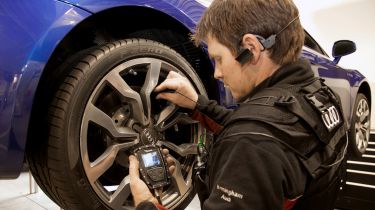 Audi has launched a new one-stop-shop service plan called Audi All-in. The after sales scheme has been designed for Audis aged between three and six years old, and promises to save owners an average of £1,220 over two years.
The Audi All-in scheme lumps the cost of the vehicle's servicing and MOT inspections into one payment, while also adding some extra benefits, such as an extended warranty and Europe-wide roadside assistance from the AA.
In addition, the roadside assistance package provides drivers with alternative travel arrangements and hotel accommodation for up to seven passengers if the car can't be fixed at the side of the road. If the car gets stranded in Europe, the package will even cover the costs of sending the driver and their passengers back home.
Audi offers two payment options for the All-in scheme. Drivers can either make 24 monthly installments of £32.71 (which works out at £785.04 in total), or they can pay for the entire two years' coverage up front, for £784.98.
The scheme doesn't have any limit on the number of owners the vehicle has had, although there are a few caveats. It's only open to Audi vehicles with 2.0-litre engines or smaller, meaning none of the company's RS models are eligible.
Every applicant will also need to submit their vehicle for an inspection at an Audi Service Centre, to ensure it meets the requirements for the warranty and roadside assistance packages. The car must also have covered less than 100,000 miles at the time of the inspection.
Andrew Doyle, Director of Audi UK, said that the Audi All-in scheme "has been designed to offer simple, hassle-free and transparent vehicle maintenance long after a customer's vehicle has left the showroom. Whether their car is already familiar with our Centres, or has never visited, we wanted to offer one product to give absolute simplicity and confidence."
Now read our review of the Audi A4 Avant. Let us know your thoughts in the comments section below…