Audi RS6 Avant vs Mercedes E63 AMG
The Audi RS6 and Mercedes E63 AMG take the mega-estate to a whole new level. But which of these powerhouses is the better buy?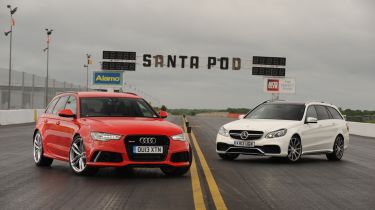 High-performance estates are nothing new, but the latest crop are the most extreme ever. With their supercar-rivalling muscle and family-friendly practicality, these versatile cars are as at home on the school run as they are on the Santa Pod drag strip.
Leading the charge of new models is the Audi RS6 Avant, which features a thumping twin-turbo V8, four-wheel drive and, as with the standard A6, a roomy, upmarket cabin. And while the new 4.0-litre engine is smaller and slightly less powerful than the V10 used in the old car, the latest RS6 promises to be the fastest and most efficient version ever.
Lining up against the rapid Avant is the new Mercedes E63 AMG estate. As with the other models in the E-Class range, the AMG has recently benefited from a facelift, which extends to revised looks and a subtly upgraded cabin. Elsewhere the car is largely unchanged, which means you get a muscular twin-turbocharged 5.5-litre V8, traditional rear-wheel-drive handling and one of the biggest boots in the business.
Verdict
Both of our contenders here deliver the same blend of family-friendly practicality and supercar-humbling performance. But which is better?
Well, the Audi claims the honours for outright pace. Its remarkable twin-turbo 4.0-litre V8 is explosive, while its quattro all-wheel-drive transmission allows you to access the car's full potential in all weathers. The pumped-up RS6 also looks great, and the cabin serves up a masterclass in style and build quality.
Yet there's something missing... Yes, the RS6 is eye-poppingly fast, but it lacks the involvement we expect from the best high-performance machines. The major controls are a little numb and the engine note is muffled.
By contrast, the Mercedes starts delivering thrills the moment you turn the key. It's not as eye-catching as its competitor here and its interior looks dated, but the E63's bellowing V8 and engaging rear-wheel-drive handling make it huge fun to drive.
The AMG is hardly a one-trick pony. Its vast boot and roomy cabin make it the more versatile of our duo, plus it undercuts the Audi by around £1,500. And those with deep pockets can upgrade to the S that matches the RS6 if they want scorching straight-line pace.
If you're after a fast and fun estate to carry a family of five, look no further than the E63 AMG.