Audi TT quattro sport concept
Stripped-out TT concept uses 414bhp 2.0 TFSI engine and will make production in low volumes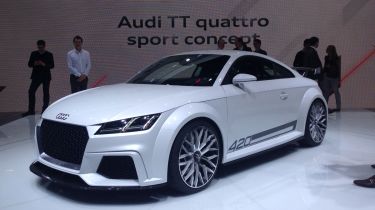 Audi has stunned Geneva with a genuine surprise – alongside the new TT coupe it brought along the TT quattro sport concept – a lightweight, stripped-out coupe that points towards a customer racing car, but also a homologation production car, which could carry the Clubsport name.
At the heart of the concept is a 414bhp 2.0 TFSI engine running 1.8 bar of boost and producing 450Nm of torque - if it makes production that will make it comfortably the highest-specific output of any engine on sale. Power is transferred to all four wheels through a twin-clutch S tronic gearbox, with a 0-62mph time of 3.7 seconds.
The engine, which weighs only 150kg, was commissioned personally by Audi's new head of development, Dr Ulrich Hackenberg when he started his role last summer. "When I came to Audi I asked for more power from the 2.0 TFSI, after a while we reached 400hp, but I said it wasn't enough, so eventually we reached 420hp and I'm satisfied," he told us.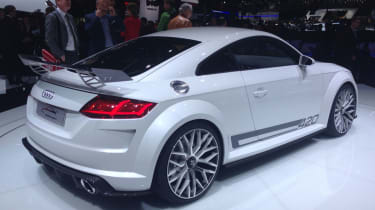 A three-dimensional metal grille, borrowed from the quattro concept, huge air intakes in the front bumper and Matrix LED headlights mark out the concept's front end, while '420' graphics, 20-inch wheels and carbon-fibre bodywork extensions create a low and wide stance. Finishing off the race car aesthetic is a huge rear wing at the back.
On the inside the rear seats have been stripped out and replaced with a roll cage and space for two helmets, while bucket seats and racing harnesses are fitted in the front. To save weight the stereo and armrests have also been removed too, although the TT's virtual cockpit 12.3-inch TFT screen behind the wheel remains.
The fact that it looks like a race car is no coincidence, either: "This an engine that we could use for racing activities. Nothing extreme like GT3, but series like the TT cup and club racing," Hackenberg explained. "It would need to be homologated so we could focus on a road version, too.
"If we made clubsport version for the road it would be a chance to use other materials. The TT already uses aluminium extensively, but we could make parts of the structure from carbon, like the fender," He added.
Hackenberg pointed out that a street-legal version of this car wouldn't be badged TT-RS, in fact it wouldn't be a product developed by quattro gmbh at all. He confirmed that a new TT-RS will be built though, using a development of the current car's 355bhp 2.5-litre five-cylinder engine. "Like this four-cylinder, the five-cylinder can also do more in the future," Hackenberg said.