Bentley eyes up hydrogen fuel cell technology
Bentley will have electrified version of all its cars by 2025, but the British company is also looking at fuel cell tech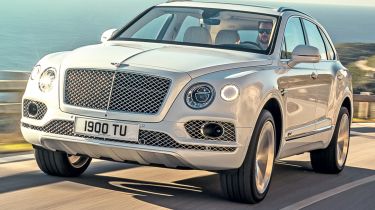 Bentley bosses have revealed to Auto Express that firm is looking into the development of hydrogen fuel cell technology.
The British company has previously announced plans to offer an electrified powertrain on every one of its models by 2025, but Bentley's head of engineering Werner Tietz has said that plug-in hybrid and fully electric vehicles are only two of the solutions the brand is working on.
• All the latest from the 2019 Geneva Motor Show
"We have a lot of opportunities - we will have electrified versions of all our names plates by 2025, this is a clear strategy," Tietz told us. "We are discussing fully electric solutions but we have to think about different technologies away from battery technology, things like fuel cell technology - this is something we have to look at. If you want to tow 3.5 tonnes you cannot do that with a battery electric vehicle."
However, this technology is unlikely to arrive before 2025. Bentley's immediate focus is on developing longer-range plug-in hybrid models. Tietz added: "An important next step is a longer range for plug-in hybrid; if we have a development in battery technology maybe 100km is possible." 
Tietz added that being part of the VW Group offers up a lot of opportunities of which they can take advantage of, although no decision on what path to take has been made."We are looking at several concepts, the cooperation with the Group means we have lots of technologies available," Tietz said. 
The news follows comments made by Bentley's design director Stefan Sielaff at last year's Geneva show, who favours a four-door coupe as the firms first EV. "The next step for us is an electric, unique Bentley," Sielaff told us. "We are still in the phase of trying to define what it could be but I think it should be a vehicle that contains certain coupe-style and elegance. I don't think it should be something raised, like an SUV."
Click here to read all the latest on the Bentley Bentayga PHEV...