Bentley to increase focus on bespoke cars after record year
After its operating profit rose to £621m in 2022, Bentley plans to produce more personalised and bespoke vehicles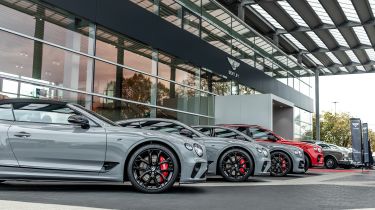 Bentley is to overhaul its production lines to allow an even greater focus on personalised and bespoke vehicles, as the British luxury brand looks to build on record profits and sales figures during 2022.
The Crewe manufacturer has announced that it came close to doubling its operating profit over its 2021 level, soaring from 389 million euros (£341m) to 708 million euros (£621m) as it delivered more vehicles than ever before – 15,174 units. This is a four-per cent increase in sales volume, but the brand's overall revenue jumped by 19 per cent as customers added greater numbers of bespoke personalisation options to each vehicle. All told, Bentley has now delivered a billion-euro turnaround in profit since 2018, when it posted a loss of nearly €300m.
Speaking to Auto Express, Bentley CEO Adrian Hallmark revealed that current building work at Crewe will allow the company to accommodate even more of the bespoke options within a more flexible manufacturing process, as it aims to at least sustain a profit margin of more than 20 per cent. "One of key things we've succeeded with is getting that personalised content into the production system," Hallmark said. "We've had to make a lot of changes to the way we build cars to do that.
"And now what we're doing, with the building work that's ongoing here at Crewe, is moving some of the processes to a different hall so we'll be able to have, alongside the two main lines, an area where we can take more time with personalised cars, or Mulliners, without disrupting the main production flow. We're going to take our whole ability with car colours, trims and options to another level."
Hallmark added that he is aiming to quadruple the bespoke Mulliner business, including adding further bespoke vehicles like the sold-out Bacalar and Batur. "We want to develop Mulliner to build even more special cars," he said. "That means limited-edition runs of core products, but also small series of these high-value cars for collectors."
Bentley's push towards electrification is well under way, and Hallmark said that the recent realignment within the VW Group – and Audi's decision to abandon its Artemis project, which would have shared a platform with Bentleys – will not delay his brand's plans. "Yes, the Artemis version of that architecture is gone," he said, "but Audi will still lead the development for the top-end segment cars. All of our needs are fully integrated into the work on those new architectures, and we, Porsche and Lamborghini will all use different aspects to create a powerful portfolio.
"If you look at the past 20 years, all of our products have been on platforms that we've taken and extensively adapted. We've had to do that retrospectively. With EVs, we don't have to adapt anything. We can put more money into the 'Bentleyness'. So it's a huge opportunity for us."
Click here for our list of the best luxury cars on sale...