Bentley Arnage (1998-2009) review
The Arnage benefited from major revisions in 2006.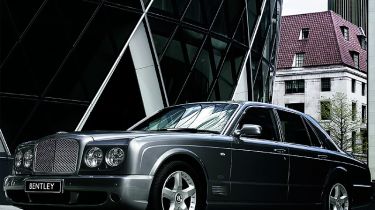 The Arnage benefited from major revisions in 2006. Headline change was a power boost for the Arnage T's classic 6.75-litre V8 engine - it now produces 500bhp and a colossal 1,000Nm of torque! A new computer-controlled six-speed auto handles all the power, though it's worth noting that even the standard non-turbo V8 produces 450bhp and 875Nm. Luckily, a new ESP system helps drivers keep the rear-driven super-luxury saloon on the straight and narrow, and there's even a hi-tech tyre pressure monitoring system. How to tell these revised models from their predecessors? Bentley 'B' badges now adorn the D-pillars, while the Arnage T sports a new dark finish to its radiators. R and long-wheelbase RL variants boast a standardised bright chrome finish. Inside, the steering column has a wider range of adjustment, and there's a new multi-colour information panel set between the dials. The RL even has a rear-view reversing camera.
All Arnage can summon amazing performance. Even the Arnage R hits 60mph in 5.5 seconds, with the T trimming this to 5.2 seconds - and while the standard car is fast enough at 168mph all-out, the T stretches this to an amazing 179mph! But the chassis can deal with it, particularly now it's equipped with latest-generation safety aids. It can be flung into corners like a much smaller car, and entertains the driver in a way such an expensive, lavishly-trimmed model really shouldn't. It's not cheap to buy and certainly not cheap to run, but the classically-British Bentley still appeals, even alongside its modern sibling, the Flying Spur. That buyers are able to choose from two luxury saloons that go about their job in such different ways makes you wish to be rich enough for it to be a problem.