Bentley Bentayga to run at the 2018 Pikes Peak International Hill Climb
The 600bhp W12 Bentayga will aim to break Land Rover's 2013 production SUV record up the 12.42-mile hillclimb course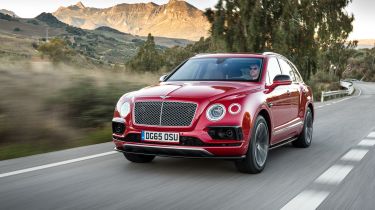 A week after unveiling its new V8 petrol Bentayga, Bentley has announced it will bring its SUV to the famous Pikes Peak International Hill Climb in Colorado Springs this June.
Bentley's objective at this year's Pikes Peak is to set a new record for the fastest SUV to complete the 12.42-mile run, which contains 156 corners. The Bentayga that will enter is the range-topping 6.0-litre twin-turbo W12 petrol model, which produces 600bhp and 900Nm of torque. In road-going guise it does 0-62mph in four seconds and can hit a top speed of 187mph.
The Bentayga's air suspension and 48-volt active anti-roll system will play a key part in its attempts to break the production SUV record currently held by Land Rover. In 2013, the British marque ran a stock Range Rover Sport at Colorado Springs driven by Pikes Peak veteran Paul Dallenbach, who completed the mountain course in 12 minutes 35.61 seconds.
Bentley hasn't released any pictures of its Pikes Peak Bentayga challenger, but judging by the press release, it will be running a stock Bentayga with minimal changes.
This could be due in part to Bentley's sister brand Volkswagen announcing last October its intentions to compete in this year's hill climb with an electric racing car. It looks similar to most Pikes Peak record-chasing cars with a huge front splitter and rear wing.
How do you think the Bentley Bentayga will fare at Pikes Peak? Let us know in the comments section below!