Bentley Bentayga Diesel axed in Europe
The diesel-powered Bentley Bentayga has been axed in Europe, but will continue to be sold in foreign markets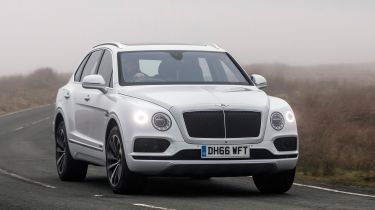 The Bentley Bentayga Diesel has been axed in Europe with immediate effect, but will continue to be sold in markets such as Russia and South Africa.
Speaking to Auto Express at the Paris Motor Show, a Bentley spokesperson told us that with the V8 petrol Bentayga already on sale and a Hybrid due in 2019, the company felt there was no longer a need for a diesel in the line-up.
• Bentley Bentayga Diesel review
Our spokesperson denied the news has anything to do with the increasingly pressured WLTP requirements, which have recently seen several of the Volkswagen Group's larger engines taken off sale in Europe.
While the Bentayga's V8 diesel unit will be removed from sale in Europe, it will continue to be offered in markets like South Africa and Russia, where there is greater demand for diesel engines. As Europe and the UK begin to favour hybrid powertrains, Bentley will focus its efforts there instead.
Bentley claims there will be no disappointed customers, as there is currently no waiting list for the Bentayga Diesel.
The Bentley Bentayga Diesel was priced from £135,800. With 429bhp and 900Nm of torque, it sprinted from 0-60mph in 4.6 seconds and hit a top speed of 168mph. It returned 35.8mpg. The faster V8 petrol engine does 24.8mpg – though the plug-in Hybrid is expected to return improved fuel economy and far lower CO2 emissions.
For a look at the best hybrid SUVs on sale, click here.