New baby Bentley Bentayga to help double Bentley sales
Bentley is already considering adding a second, smaller SUV below the Bentayga as its fifth model line, says CEO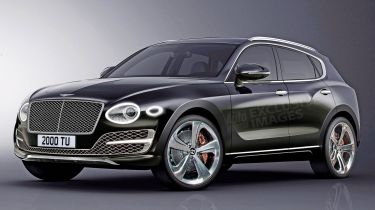 Bentley's new Bentayga SUV and its forthcoming coupe-SUV relative may be stealing the headlines, but a new baby Bentley Bentayga is still in the pipeline and could be set to make an even bigger splash.
The smaller SUV – revealed in our exclusive image – could join the growing line-up in the next few years. It would be key to plans to boost annual sales from just over 8,000 last year to 15,000 by 2018.
When we spoke with Bentley CEO Wolfgang Dürheimer at the Shanghai Motor Show earlier this year, he told us "further SUV derivatives" were part of Bentley's future search criteria. When pushed on whether this meant different shapes, versions or a smaller Bentayga, he replied: "Yes."
That Durheimer is interested in a smaller SUV shouldn't really come as a surprise, the segment for Audi Q5, Jaguar F-Pace and Porsche Macan-sized SUVs is the fastest growing division of a booming global SUV segment. And while customers looking for something sporty are well catered for, there's a gap in the market for an SUV that's compact and luxurious.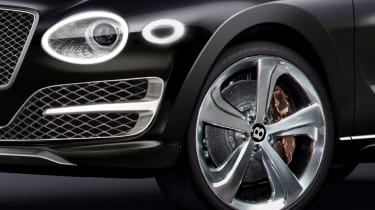 While the Bentayga will be based on the same MLB architecture as the new Audi Q7, it's believed that this smaller SUV, and the Speed 6, could both be based on a new rear and four-wheel drive lightweight MSB platform. Currently under development for the new 2016 Porsche Panamera and the 2017 Bentley Continental GT, building either of these models would help spread the development costs of the new platform. We now know that an electric hypercar based on the EXP 10 Speed 6 concept has been given the green light and is set to do wonders for the high-performance DNA of the brand. The volumes in a smaller SUV are significantly higher however, and the baby Bentayga looks set to become a priority once the sports car and Bentayga coupe have arrived. With the Bentayga, the plan is to sell 3,000 to 4,000 SUVs a year, which would make the new smaller model a crucial part of Bentley's aim to boost annual sales from 8,510 last year to 15,000 cars by 2018. A second SUV could easily push that figure to over 20,000 by 2020. 
Read our first drive review of the Bentley Bentayga SUV...