Bentley Mulsanne to get performance version at Paris motor show
Handbuilt Bentley Mulsanne super saloon to get power upgrade and chassis tweaks to celebrate GT3's racing success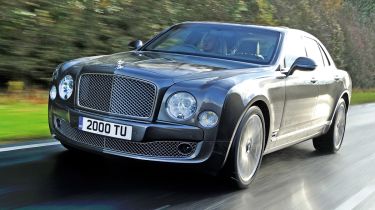 Bentley is planning a performance version of its range-topping Mulsanne and it could be seen as early as the Paris Motor Show in October. Speaking to Auto Express at the Goodwood Festival of Speed, returning CEO Wolfgang Dürheimer said: "We will see Mulsanne developments at motor shows in 2014".
With Bentley's recent success with its GT3 racer in the Blancpain series, and the unveil of the Bentley GT3-R at Goodwood, the smart money is on a hot version of the Mulsanne to further position Bentley as a 'sporting luxury' brand.
The excellent reception to the GT3-R at Goodwood has given the company the confidence to push ahead with further high performance models, according to company insiders.
The new Mulsanne will keep its established 6.75-litre twin-turbo V8, but expect power to be boosted from 505bhp to closer to 550bhp, while the 0-62mph time should drop below 5.0 seconds – quite a feat for a car weighing well over two tonnes. However, there should be some weight saving measures employed, plus chassis tweaks for a more responsive feel.
Dürheimer has returned to Bentley after an absence of two years, during which time he said the company has changed. "Bentley is on the move, the product is stronger than ever and there's a new spirit around the company," he told us.
He also revealed that one of his first jobs back in his new role was to take a test drive in the prototype version of the new Bentley SUV: "It feels 100% like a Bentley from behind the steering wheel with a really powerful feeling," he said.
A total of 1000 jobs will be created as a result of the new SUV being built at Bentley's factory in Crewe, with 400 of them being in-house and the rest at UK-based suppliers. The SUV will see Bentley's production increase from today's 10,000 cars a year to an eventual total of 15,000.
The performance of Bentley's dealers has also been under scrutiny with Dürheimer saying that a new showroom experience was being developed, previewed by a new facility just up the road from the Crewe factory.