The fastest vans in the world
Vans aren't usually built for speed but if performance is your priority, the world's fastest vans can really deliver the goods.
When it comes to vans, the key vital statistics are rather different from those we usually associate with cars. While it's all about bhp, mph and mpg when you're researching a new car, load capacities and weight limits normally take precedence for van manufacturers and buyers.
But not always! Over the years there's been a number of vans that have put the focus on performance as well as payloads.
Some have been from manufacturers aiming to offer buyers a little bit extra. Some have been from tuners that have sprinkled a little stardust on production vehicles. Some have been ramped-up one-off specials. And some have been crazy iterations of long-standing favourites, made for TV shows or to attract publicity.
Whatever the motivation, we've seen some astonishing commercial vehicle creations that have given White Van Man the opportunity to channel his inner Lewis Hamilton and enjoy some genuine behind-the-wheel fun.
Here we present our selection of no less than 13 vantastic thrillers that will change forever your perception of the van as a boring diesel plodder good only for delivering your online supermarket shopping and Amazon Prime deliveries.
These, ladies and gentleman, are the world's fastest vans. Buckle up, turn Talksport up to 11 and hold on tight!
MG ZR Express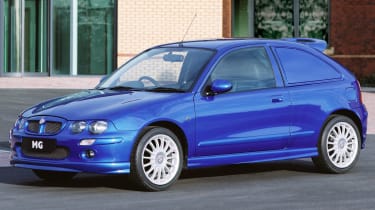 In 2003, MG had the novel idea of removing the rear seats of its feisty ZR 160 hot hatch, blanking out the rear windows and selling it as a van. There were multiple benefits to this, in particular a lower purchase price, smaller tax bills and cheaper insurance.
The 158bhp (160ps) engine ensured the Express lived up to its name, too, with 0-60mph in around 7.4 seconds and a 131mph top speed, plus a taut chassis set-up ensured agile handling. As you might expect, though, a hot van had limited appeal and the Express remained a rare sight.
Chevrolet Express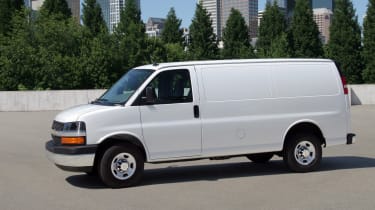 Over in the US, they don't do things in half measures. Which is why no one was surprised in early 2020 when Chevrolet announced that its redoubtable Express van, a stalwart of the American commercial vehicle scene for the best part of three decades, was being fitted with a 6.6-litre 401bhp V8 engine. Yes, you read that correctly. Does 629Nm of torque sound sufficient for you?
The engine debuted in the Silverado HD pick-up and although no performance figures are available for the Express, we assume the V8 will mean the Express can adequately live up to its name.
MINI Clubvan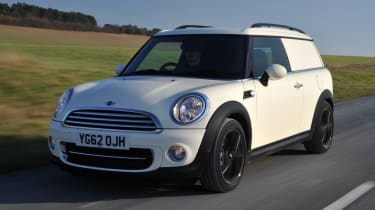 Back in 2013, MINI had a not dissimilar idea to MG roughly ten years earlier when it decided to create a small van from one of its passenger cars, the MINI Clubman. The recipe was familiar, too – remove the rear seats and windows. And so the Clubvan, a spiritual successor to the Minivan was born.
Diesel (112bhp) and petrol (122bhp) Cooper versions were available, with the latter completing the 0-62mph sprint in a rapid 9.8 seconds. While the MINI was just about the fastest new van on the market and the most stylish, too, a high price counted against it and it was pulled in 2016.
Guy Martin's Ford Transit van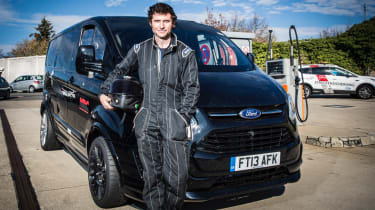 Speed king Guy Martin showed the potential for fast vans in a TV special back in 2018 when he took a modified Ford Transit to Germany's notorious Nürgburgring. The van's history was interesting to say the least; it had been crashed and restored before being driven at high speed across the Nevada desert.
Convinced of its ability to be a record breaker, Martin set about re-engineering it and over a number of months fettled the Transit, with its 3.5-litre twin-turbo EcoBoost V6 developed to upwards of 700bhp by Radical Performance Engines. The result? A new lap record for a van around the Green Hell, with a scarcely believable time of nine minutes, 28 seconds. Scorching!
Revo Volkswagen T5 Transporter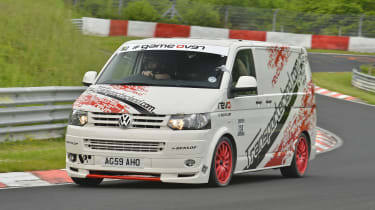 Martin's modified Transit wasn't the only beefed up van that had tackled the 'Ring. The record he broke had been held by Dale Lomas, who piloted a Volkswagen T5 Transporter that had been significantly upgraded by VW tuning specialist Revo.
The standard T5 had done 80,000 miles when Revo got its hands on it. Among the changes were the addition of a Milltek turbo-back exhaust system, an uprated intercooler/oil cooler combination and a remap of the ECU. With power boosted to 220bhp, the work paid off and Lomas recorded the Nürburgring's first sub 10-minute lap for a CV.
Rob Austin's rental VW Transporter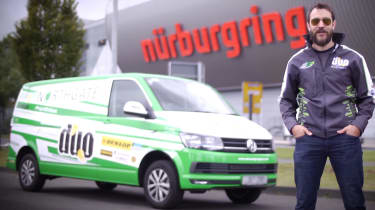 While Martin and Lomas jousted for glory with modified vans, BTCC racer Rob Austin showed what a standard rental one was capable of in 2018. The production VW Transporter was supplied by Northgate Vehicle Hire, the UK's largest van rental company, and was powered by a standard mid-range 110ps diesel engine. But Austin's skills and the quality of the Transporter paid off, with Austin also breaking the 10-minute barrier around the Nürburgring.
Brabus Mercedes Vito V6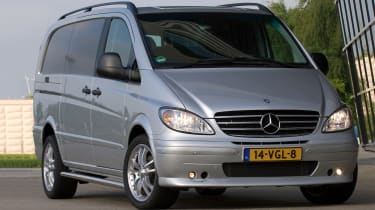 Sitting atop the Mercedes Vito van range a decade ago was this, a V6-powered oddity that achieved a certain degree of cult status with some van fans. Its 3.0-litre 224ps turbodiesel delivered a 0-62mph time of 9.1 seconds but 440Nm of torque ensured it felt quite a bit faster than that.
The Vito was available as a panel van or, as in our picture, with people-carrying capability, but don't get too excited by the mention of Brabus – the tuner's input was largely cosmetic and limited to styling tweaks.
Ford Transit Supervan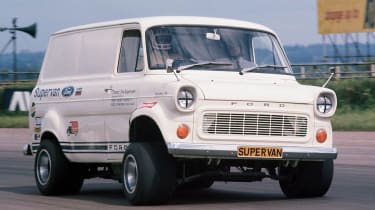 To many, the Transit badge has become synonymous with vans, but in 1971 Ford felt it was necessary to raise the vehicle's profile and it did so by creating what it called the Transit Supervan. The recipe was bewitching – under a standard Transit steel body Ford fitted running gear from the legendary GT40, a winner at Le Mans.
The 5.0-litre V8 engine took up much of the cargo area and performance was intoxicating: 0-60mph was dispatched in around seven seconds and top speed was claimed to have been in excess of 150mph. Rarely has a vehicle been so aptly named as the Supervan.
Ford Supervan 2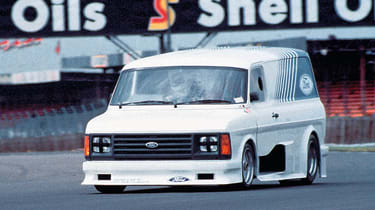 Thirteen years later, the Supervan 2 followed in the tyre marks of the Supervan. The ingredients were different this time; the body was much more hi-tech, with fibreglass, Kevlar and carbon fibre, and the chassis came from the C100 race car, which also donated its 3.9-litre Cosworth V8 engine.
According to Ford, the unit developed 590bhp and the results were predictably startling, with the Supervan 2 claimed to be able to reach a top speed that was in the region of 175mph.
Ford Supervan 3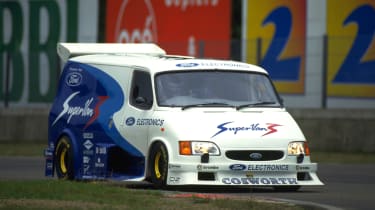 The Ford Supervan formula was mixed up again in 1994 for the Supervan 3, which used the Supervan 2 as its base and was employed by Ford to promote the facelifted Mk3 Transit. New bodywork gave it a more contemporary look, but the real story was a different engine in the shape of a 3.5- litre Cosworth V8 that delivered between 630-700bhp. The fact that it had won races for Ayrton Senna in his McLaren in Formula One in 1993 gives you an idea of its capabilities.
Electric ice cream van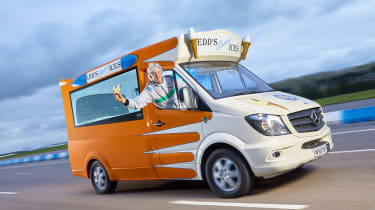 Well, an ice cream van is a van of sorts, and TV Wheeler Dealer Edd China has taken pride of place in the 2021 edition of the Guinness World Records book with one very special creation. The modified Whitby Morrison Amalfi machine broke the record for the fastest electric ice cream van by reaching a speed of 73.921mph over a standing mile at Elvington Airfield in Yorkshire.
Edd stripped out the Mercedes Sprinter diesel engine and replaced it with an electric powertrain - but rumours the flavours he sells include rum 'n' racing and megavan-illa are unconfirmed...
SpeedVegas Ford Transit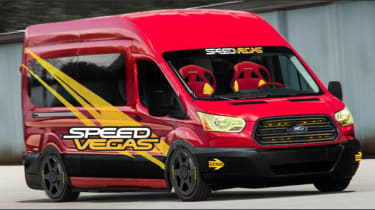 This tarted-up Transit starred at the famous SEMA show in Las Vegas in 2019, and certainly looks the part. With all-wheel drive, Weld Racing wheels, MOMO tyres and seats, Brembo brakes and suspension that is lowered by five inches, it has attitude in spades. But given that no powertrain details are available and its role is to shuttle people to drive exotic cars at the SpeedVegas test track, we suspect it's a case of style over substance and it's no faster than a standard Transit.
Espace F1 Renault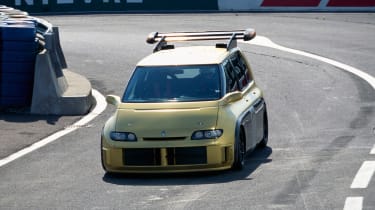 Ok, we know that technically the Espace is a people carrier, not a van. But it looks like a van with windows, is known as a minivan in the US and this version was so ludicrously quick that we simply had to include it.
A celebration of Renault's tie-up with F1 team Williams in the early Nineties, the Espace used the FW14 race car's 3.5-litre 800bhp V10 and a carbon-fibre chassis to deliver a devastating driving experience. The figures speak for themselves; 0-62mph in 2.8 seconds and a maximum speed of 194mph. Mind-boggling!
Chevrolet HHR SS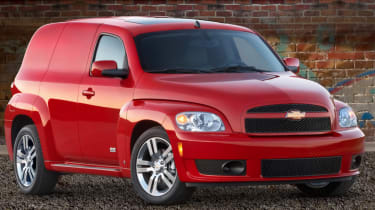 Not quite so quick, but definitely still worth a mention, is the retro-styled Chevrolet HHR SS panel van. Originally designed as a rival to the Chrysler PT Cruiser, this crazy cargo version delivers 260bhp and 353Nm of torque, which means 0-60mph in around six seconds.
The SS upgrade included bigger wheels, more aggressive styling and sports seats, but Chevy also had the genius idea of including launch control and a 'Competitive' driving mode. With only 216 SS vans built, they're rarer than hen's teeth, but find one and you'll have a practical hot hatch-slayer.
Now read about our Best electric vans...