BMW 2 Series video - is the M235i the new E36 M3?
The new BMW M235i reminds us of the classic E36 BMW M3 - but does it live up to the legend?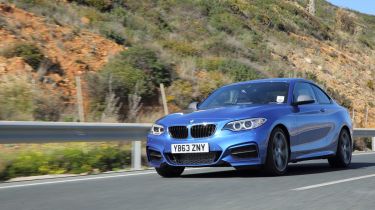 This is the new BMW 2 Series, which, if you're not up on BMW's recent naming strategy, is a replacement for the old 1 Series Coupe. It's a proper rear-wheel-drive BMW and this M235i model boasts a subtle resemblance to the original E36 M3 – and that can only be a good thing.
The retro M-car hints extend further than you might think, too – this car has got 321bhp, which is not only 6bhp more than the M135i but also exactly the same output as the E36 M3. Unlike that car, though, BMW wouldn't class this as a proper M car - it's one of the M Performance models instead.
That means it does without the drastic chassis changes and settles for firmer suspension, uprated brakes and variable ratio steering. There's no limited slip-diff, though, unless you delve in to the optional range of M Performance parts.
We've got the eight-speed auto here, a six-speed manual comes as standard, and with this gearbox the 235i can hit 62mph in 4.8 seconds. It's a really flexible engine, too, you get plenty of torque low down in the revs which makes it nice and easy to drive - but it's got a bit of character at the top end as well. It doesn't run out of puff as you're getting to the 7000rpm redline, you just get a smooth shift from the auto and another big slug of torque.
The M235i's interior gets a few subtle upgrades over the standard 2 Series, the most notable of which is the excellent M steering wheel. You get a set of really comfortable and supportive sports seats, too, as well as a clear and easy to use 6.5-inch colour screen, controlled through the iDrive scroll wheel.
It has a relatively sensible side to it, as well, with BMW claiming that the auto version will do almost 40mpg, and our manual car manages around 35mpg. There's even a boot that's 40 litres larger than that in the 1 Series.
The M135i was one of the finest handling cars of 2013, so we were expecting the 235i to follow suit. Well, it's got exactly the same wheelbase so it feels really similar. What that means is a car that's really tied down to the road, loads of traction, loads of grip and great steering. In Sport mode there's a really nice amount of resistance through the wheel, and about as much feedback as you'd want without having to wrestle with the steering too much.
Because it's not a proper M car, the engineers wanted something a bit more approachable. So it's surprisingly forgiving in the corners. You can be pretty aggressive with your inputs and it's not going to spit you in to a ditch. Do you miss that limited-slip differential? On the road, no I don't think you ever would. You might want it for track driving but as a road car the 235i is one of the most engaging and nicely balanced cars out there – even without that diff.